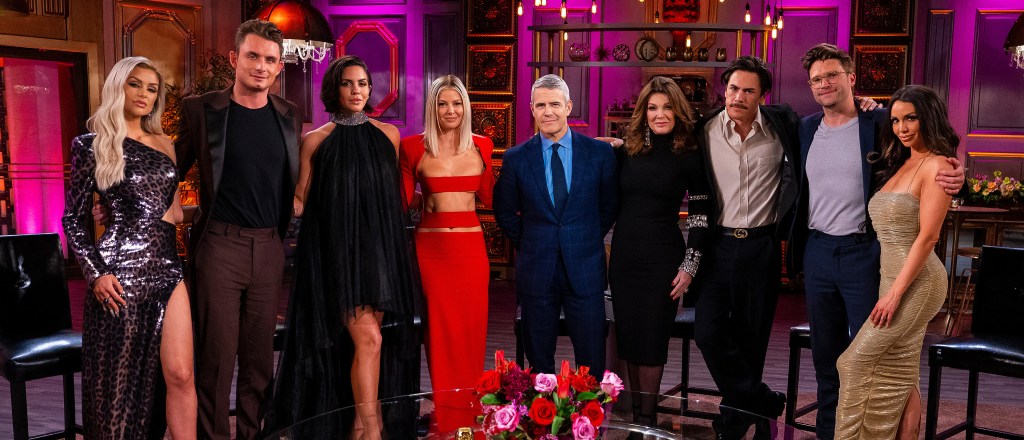 The original concept for Vanderpump Rules was to highlight the chaotic 20-somethings who worked in Lisa Vanderpump's various restaurants. In its heyday, this series revolved around hookups, shirtless fights, and drunken co-workers. It also featured broke cast members living in tiny apartments. Sometimes, they even lived together.
When VPR first premiered in 2013, it thrived. In recent years, however, the vibes have been off. In fact, many people even speculated that this series was on its way out after Season 10. However, at the end of this season, the Scandoval storyline broke, and the ratings soared.
Truly, Tom Sandoval and Rachel Leviss' affair saved this series from a big fat cancellation, but was it enough? Overall, I believe that this cast has taken the series as far as it can possibly go. Just like when Bravo recast the Real Housewives of New York franchise for Season 14, I truly feel like they should also consider a Vanderpump Rules reboot after Season 11 airs. Here's why.
Introducing New Cast Members Hasn't Worked
Production has already tried to bring this series back to it's original concept. They've attempted this by bringing on new cast members who all still work for Lisa. However, each new hire has been a bust.
For example, Max Boyens and Brett Caprioni were brought on, but they were each fired for insensitive comments made online. Dayna Kathan came on and then left pretty quickly after, choosing to live her life off-camera, as the drama was all consuming. In turn, Vail Bloom also chose not to engage with the cast's drama, and she too was never heard from again after her one season on-air.
Ally Lewber and Brock Davies are relatively new, but they are also each coupled up with a long-standing cast member. Therefore, the storylines that these two have added are closely wrapped up with their partners, James Kennedy and Scheana Shay. This series needs a shake-up, yet when it comes to hiring new faces who can bring fresh storylines, all attempts have flopped. Therefore, bringing in additional cast members isn't likely to save Vanderpump Rules.
There Are No Couples Left To Help Unify This Cast
Back in the day, Tom Schwartz was dating Katie Maloney. Their romance was turbulent. Katie was seen as mean, while Schwartz seemed to evade responsibility…for everything. In turn, the cast either loved Katie while tolerating Schwartz, or they loved Schwartz while tolerating Katie.
These feelings remained when Katie and Schwartz were married. As these two were a package deal, those who were only tolerating one side had no choice but to play nice, or they'd run the risk of losing their loved one. Minus Sandoval, who never played nice with Katie.
Likewise, Sandoval and Ariana Madix were an item from the end of Season 2 until the end of Season 10. Just like Schwartz and Katie, Sandoval and Ariana were equal parts loved and loathed, but as they were a team, their co-stars had to stomach their feelings of dislike. However, both of these couples have since called it quits. Katie filed for divorce, and Ariana ended things with a swiftness once Sandoval's affair was exposed.
Without these pairings, the divides in this cast will finally and fully be felt, which we saw starting to go down towards the end of Season 10. These couplings helped to unify the cast, and in their absence, we were left with choppy storylines and verbal pile-ons. Don't get me wrong, Season 11 could surprise us all, showing a cohesive cast who has gotten over their issues. But, yeah, I doubt it, and without a unified cast, I restate my take, that it's time for a Vanderpump Rules reboot.
There Are No Workplaces Left To Help Unify This Cast
When this series first began, every single cast member involved with filming was either a host, a waiter, or a bartender at SUR. They would clock in, work a bit, then go into the back alley in their uniforms to smoke and argue. It was glorious. However, this cast has aged out of their former jobs, and the removal of this universal filming location has aided in the show's decline.
SUR's alley gave off main character energy, and she is missed. This leads me to further stress that Bravo needs to reboot this series, bringing back its messy, alley-sitting employees.
The Current Cast Has Outgrown The Bar Scene
Even though the liquor stills run freely, Lala Kent, James, and even Sandoval have all ventured down the sobriety trail. Moreover, several of the cast members are now parents, which means that a lot of the bar scenes have been replaced with early bedtimes and kid-friendly parties.
This is a completely difference concept than this series ever set out to be. If this series were rebooted, we'd get to see a return to the messier days, where the stars had a lot less to lose.
There's Already A Spin-Off In The Works Anyways
For those on the fence about a Vanderpump Rules reboot, I get it. These personalities have been in our lives for well over a decade. We've watched them rise and fall, and sometimes even grow. From marriages to divorces to affairs to babies, it's been a wild ride, and this series has almost become like a core memory for its viewers.
For me in Season 11, I am eager to learn more about Ariana and Katie's sandwich shop, while also learning about whether or not the cast was able to overcome their divides. I'm still invested, so I get that many of our readers likely feel the same, even if it's hard to admit. If this is you, know that a spin-off has already been introduced, though the details are still a bit murky. In this new series, it appears that several of the Vanderpump Rules OG's will be crossing over, filming for both this new spin-off and VPR.
This means that if a Vanderpump Rules reboot ever transpired, we wouldn't have to say goodbye to our faithful, messy friends.
TELL US – DO YOU THINK THAT VANDERPUMP RULES NEEDS A REBOOT?
The post Why Bravo Should Consider a Vanderpump Rules Reboot appeared first on Reality Tea.