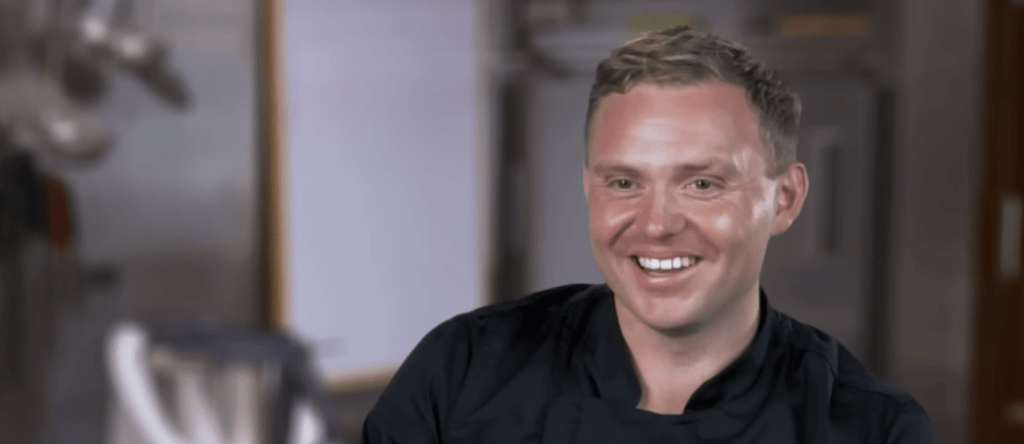 Chef Jack Luby is currently debuting on Below Deck Mediterranean Season 8. Sure, at times, Jack has let the charter guests down, but his heart is solid. His interactions with his coworkers are also proving positive. Turning his ear away from the interior department's petty drama, he is working hard at producing quality dishes, always putting his craft first.
However, watching back his season has made him realize just how little he had been prioritizing himself. Not liking what he saw, Jack began making changes. Now, one-year post filming for Below Deck, Jack is like a brand new man, aside from his still-heavy accent. Overall, Jack's glow-up is pretty incredible, and we'll tell you why.
Jack Overcame Chronic Lower Back Pains
Dealing with chronic back pain(s) sucks. Yet, following years of "bad form," this was exactly what Jack was facing. Luckily, Jack was able to work through his pain, relearning correct patterns in the process. "Spent the last 6 months in a lot physio therapy and actually started stretching daily (trust it's not overrated), now feeling like a new total new human," Jack wrote, which I read in his accent.
Yacht Chefs Don't Get a Lot of Down Time to Exercise
It's rare to see a lazy individual on Below Deck, without a firing occurring quickly after. The reasoning is that this job isn't for the faint of heart. You see, as soon as Jack rises, he has to worry about getting the breakfast service out, which usually see's multiple renditions of eggs, aka, Jack's arch nemesis. Following that, it's lunch prep, which turns into lunch service, which then repeats itself just a few hours later for dinner, and this doesn't even include the guests' requested midday or late-night snacks.
Clearly, working on a yacht doesn't provide a lot of time for self-care. Several years ago, Kate Chastain actually spilled a bit of behind-the-scenes tea on this topic. "I feel like everyone should know #BelowDeck is one of the most difficult shows out there for cast members. Every night, after working 16+ hours, we'd get into our tiny bunk, & have to wave to the camera so they'd turn our lights off," Kate explained.
With so little time during the day, and production being behind the wheel on every detail, even when your nighttime lights can turn off, your world is not your own when filming for this hit Bravo series. Furthermore, healthy patterns, such as going to the gym, maintaining proper hydration throughout the workday, and receiving adequate amounts of sleep each night, are all tough to maintain. It's understandable why Jack's health took a back seat. It's incredible now to see Jack's fitness transformation, following his year spent putting in the hard work.
Jack Is Taking Back His Health in Multiple Ways
Not only has Jack been hitting the gym faithfully, he's also using his heightened culinary skills to assist in his overall health. Calories in verses calories out matters, as does watching your intake of proteins and fats, while limiting items like processed foods. Also, from the looks of it, it seems like Jack has finally mastered breakfast dishes using eggs…
Sharing a recipe for "veggie omelette and spinach," Jack showcased how he makes one of his post workout meals. Listing the calories and protein counts for this breakfast, this recipe is totally doable for the below-average kitchen user. Speaking of myself, I'm not gonna lie, I'm making this later, but it will not be after a gym visit, because, baby steps.
In addition, Jack is drinking far less these days. In an interview with The Messenger, Jack explained "I think the pressure of the job as a chef, I don't want to make excuses, but it does make you drink a lot. It makes you make bad decisions." That said, Jack isn't sober, as he added that he still drinks, just only during "special weekend occasions."
These days, Jack is drinking less and eating well-balanced meals. He's then following this up by spending hours in the gym. It's clear to see that Jack has taken his life back in multiple areas. For this, we find his glow up well-earned, and admirable.
The Results Are Speaking For Themselves…
It has been a year since Jack walked off of Below Deck's motor yacht Mustique. After filming, Jack headed to Bali for a "long-needed break," I typed, feeling poor. Once there, Jack's fitness and wellness journey began. "I've just spent the past year just training, working out, eating healthy and just trying to get a good mental mindset," he declared.
As for the results, Jack stressed, "I feel like a new human mentally, physically and self-confidence-wise after going out of my comfort zone and accomplishing all these goals and doing all these competitions." In turn, Jack's mental health has also improved. "My self-confidence is a lot higher. I think I've got a lot more self-esteem," he stated in his interview.
Looking at Jack now, he truly does appear to be at the top of his fitness and wellness game. We love this transformation for him, and we hope that he continues to strive towards being his best self in the years that follow.
Jack Is Now Using His Platform To Encourage Others
Over the years, Below Deck has secured many top chefs. Jack is becoming yet another one of the show's varied success stories, with each drama-free dish that leaves his galley. Now, Jack is using his platform that this series has helped boost for good, encouraging others who might also want to take back their lives.
In his interview, Jack voiced, "If you make fitness and health your priority in life, everything falls into place. Don't be scared. Step out of your comfort zone and you'll find that if you get the discipline to go to the gym and get healthy, you'll get discipline in every area in your life." Jack, your glow up is incredible, and we know that you will indeed inspire others along the way.
TELL US – WHAT DO YOU THINK OF JACK'S FITNESS TRANSFORMATION POST BELOW DECK?
The post Why Chef Jack Luby's Glow Up Is So Incredible appeared first on Reality Tea.