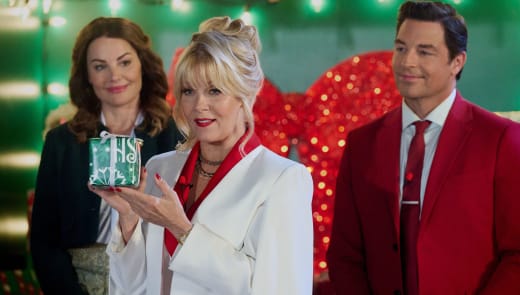 Now you KNOW Christmas has arrived!
Both of the Hallmark networks have fired up the holiday. Countdown to Christmas began in earnest on Hallmark Channel last week, and Ms. Christmas Comes to Town gets the party started at HMM.
One thing both networks have in common other than movies and Christmas is a steady stream of prolific actress Barbara Niven.
Niven has played mom to so many characters across the Hallmark universe. While they usually have their own story arcs (most notably in Chesapeake Shores), Ms. Christmas Comes to Town allows her to step away from her role as mom.
Well, sort of.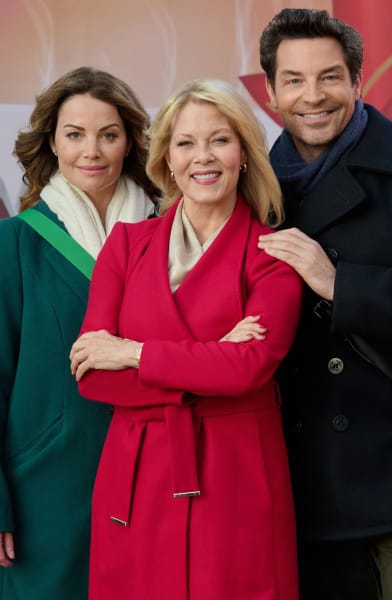 Niven plays Gale, an HSC shopping channel hostess who has brought the magic of Christmas to customers for over 24 years. That's a lifetime, and the relationships she has formed have brought her and the channel much success.
Like many who work harder at work than life itself, all of her relationships are in some way wrapped up in the HSC family instead of her own.
This comes to light painfully for viewers when she receives a terminal diagnosis from her doctor, and her first thoughts are of HSC, her beloved assistant Amanda (Erica Durance), and how to bring her reign as Ms. Christmas to a close.
The relationships we build at work are often some of the strongest of our adult years because it's where we spend most of our time. As much as we'd like to think that the preponderance of that time at work is professional, our personal lives bleed into the office, which gives our home away from home so much sparkle.
Gale and Amanda were as close to mother and daughter as you can get outside of the real thing, for better or worse for the story at hand, depending on how you were looking at it.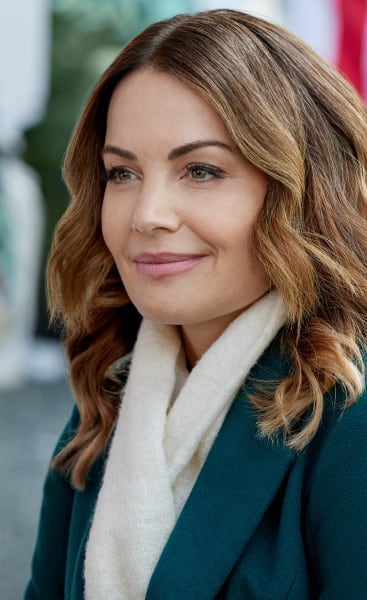 Amanda may not have been thinking about stepping into Ms. Christmas's shoes, but well before being asked, she had already put her personal life aside for her professional.
But HSN is an organization run by and primarily for women, and both Gale and the head of the network had Amanda's well-being in their sights.
When Calls the Heart Season 10 Finale Review
Someone set up Amanda on a blind date, and by the time she'd gotten there, she had psyched herself up for it to go well to such a degree that she didn't let the supposed date get a word in edgewise. She was blithering on so that the guy would either fall madly in love or want to get away from her as soon as possible.
Of course, the unwitting non-date, Travis (Brennan Elliot), fell hard for Amanda, but he wasn't her date. The Hallmark faithful knew something would bring the two together because blind-date Michael was so not the one for Amanda!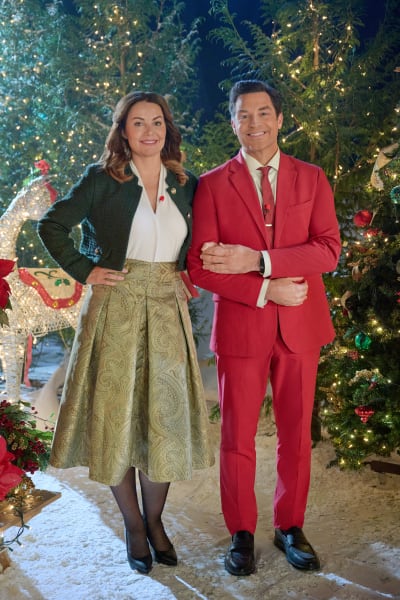 It wasn't the cutest meet-cute we've seen, but it set the tone for how their relationship would unfold, and the stage was still being set otherwise.
In the time it took Amanda to have her odd blind date and fall for a stranger, Gale discovered she had less than two years to live. By the time the two saw each other again, Gale had set up the Ms. Christmas Comes to Town Tour, and if there was any miracle of Christmas, that was it.
On the map, the tour looked short, but the unrealistic time frame in which it came together was astounding. The Ms. Christmas bus, tour dates, and elaborate sets were available within what seemed like two days.
Hey, it's Christmas, right? The time of miracles. I never expected a home shopping channel to have such incredible resources! Maybe they used what was on hand to bring it all together. They do have all the products at their disposal.
Gale chose Amanda as her heir apparent under the guise of suddenly announcing her retirement, naming her Ms Holiday. Amanda wasn't nearly as skeptical about any of it as I would have imagined. Who is that devoted to work only to announce retirement in the time it takes to have one bad blind date?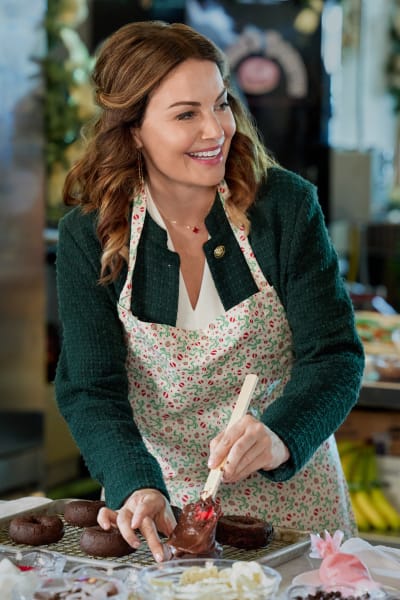 Amanda didn't really question Travis's involvement, either, allowing "he's the network manager's son" or something like that to be enough.
Nobody had ever seen him before Amanda's run-in with him at her date, and given her role in the Ms. Christmas empire, she should have wondered what the heck was going on.
Gale didn't want to tell Amanda she was ill, let alone dying for no other reason than for story purposes. When she finally had the chance on tour to tell Amanda why she kept it a secret, the reasoning fell flat.
Nurse Travis was a good addition for more reasons than his medical prowess and attraction to Amanda. First of all, Brennan Elliot is charming and funny and has a soothing presence in many roles, here included.
Travis was much the same, and he somehow made his odd relationship with Gale work at the last minute, even worming his way into her heart so much that she invited him to be on stage with her and Amanda.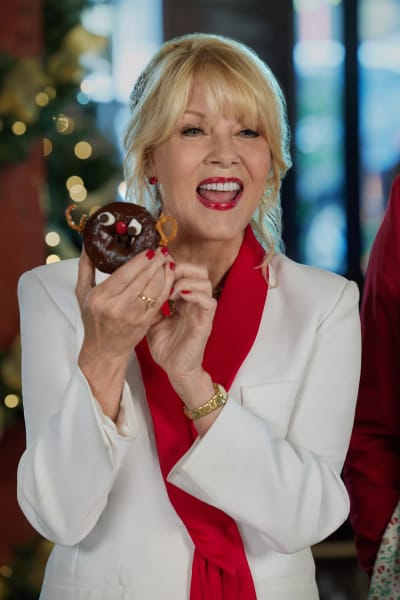 Thank goodness for that! She had apparently given no thought whatsoever to whether Amanda would be a suitable replacement.
It seemed strange that Amanda had never been on stage with or stood in for Gale before Gale bestowed upon her the enormous task of filling her Christmas shoes.
        The Way Home Season 2: Everything We Know
Without Travis, Amanda would have taken too long to transition from bumbling backstage apprentice to on-stage dynamo. He brought out the best in her, on stage and off.
It was also Travis who was most concerned about how Amanda would feel if she got wind of Gale's illness and prognosis from someone other than Gale herself, which is almost how it happened.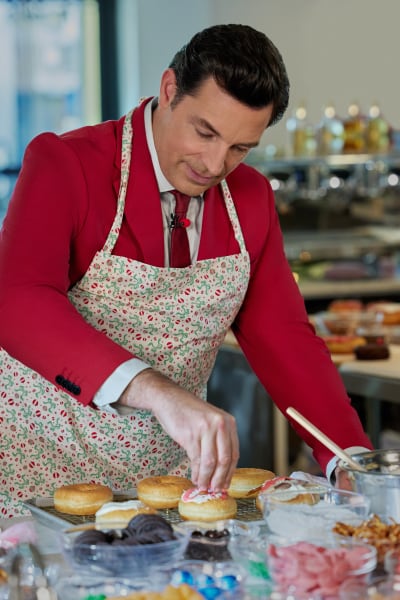 Discovering a medical bag is much less insulting than finding out from the network, for instance, but it could have been handled differently.
Yes, Gale should be allowed some grace in sharing her situation. It would be more real and feel inevitable once you shared it with people. But she increased the pressure and put a timer on it with the tour.
While Gale was considering putting a lid on her future, her past stepped out before her, and without Amanda's kind understanding of her friend and mentor, Gale may have passed up a second chance with her first love.
It's hard to imagine having an expiration date on your life, but Gale embraced it gamely, even if she was willing to forgo the affection she deserved, primarily to protect the feelings of those she loved.
Will she falter along the way? Undoubtedly. But the Ms. Christmas Comes to Town Tour offered her a unique start at an unprecedented future.
If Gale unsuccessfully tried turning her back on love after an incredible blow, Amanda and Travis flourished despite a secret that could have torn them apart.
In more than one movie recently, we've seen a couple falling for each other who is faced with a stumbling block that in previous movies found them floundering what they've established so far, turning tail and leaving town.
Instead, we've been treated to adults acting like adults, using their best judgment not to hold someone accountable for things out of their control, like Travis keeping Gale's situation to himself and allowing her to reveal it in her own time.
All's well that ends well with this movie, that's really not as deep as you'd expect from Miracles of Christmas fare. There were the expected silly cooking contests between Amanda and Travis and lots of on-stage moments handing out gifts to unknown people in small-town America.
The whole time, I couldn't help but wonder if this was Hallmark's answer to QVC/HSN getting into the Christmas movie game. As it turns out, Christmas and shopping channels don't go together as well as Christmas and toy factories or bakeries.
Gale, Amanda, and Travis were going through the motions during a major publicity tour, discovering new sides of their embattled hearts, but the story wasn't as deep as Gale's situation warranted.
Overall, it was a little too easy, just like deciding to get your loved one a gift from the shopping channel instead of choosing a gift from the heart that speaks to your relationship with that person.
Will Ms. Christmas Comes to Town become an annual holiday classic? You tell me! What would you do if you were given less than two years to live?
I'd love to hear your thoughts, so drop them down in the comments section and share them with me.