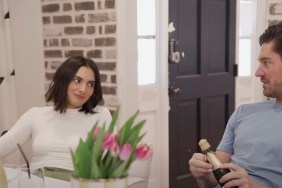 Paige DeSorbo is, arguably, the original Bravolebrity crossover star. Before Winter House started hosting the likes of Tom Schwartz from Vanderpump Rules and Malia White, alongside Katie Flood, from Below Deck Mediterranean, Paige started appearing alongside her beau on Southern Charm. She had starred on the hit reality TV show Summer House solo, then branched out to film on Craig Conover's show. She films often enough as his long-distance girlfriend.
So long as these two lovebirds stay long distance, Paige can keep filming Summer House with her friends on the weekends. And Craig shares his life and work on Southern Charm while it's in production for the next season.
But as the original crossover star, one of Paige's followers asked her which series she prefers to film. The answer may or may not be a surprise.
Paige shares her answer with fans
During an Amazon Live, Paige shared her favorite make up products and took questions from fans.
"Which show is more fun to shoot, Summer House or Southern Charm?" Paige read the submitted question.
"I'm gonna say Summer House just because we're in like a gorgeous house all summer. We're like letting loose. We're having fun. We're drinking. We're partying. It's the weekend. Southern Charm is a lot more day to day, like Monday through Friday, and then maybe they do something fun on Saturday. But I have to go with my cast, because that would just be rude of me," Paige responded.
Certainly, there's a point about the nature of Summer House and that it only films on weekends during the season in Montauk. A lot of drama is lost in between. A loss for viewers, but perhaps less emotionally taxing for the cast.
Pagie critics, however, have mocked her for lying in bed most of the time and refusing to help clean after one of the infamous Summer House parties. That's a viewers problem. Once again, it sounds like a good deal for Paige.
Catch Southern Charm on Thursdays 9/8c on Bravo.
TELL US – WHAT DO YOU THINK OF PAIGE'S CHOICE? DO YOU PREFER WATCHING SUMMER HOUSE OR SOUTHERN CHARM?
The post Does Paige DeSorbo Prefer Shooting Summer House or Southern Charm? appeared first on Reality Tea.