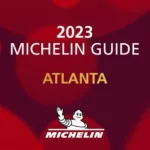 Atlanta's culinary scene is poised for a historic moment as the Michelin Guide, renowned worldwide for its prestigious restaurant ratings, makes its long-awaited debut in the city. With the official announcement set for October 24, 2023, at the Rialto Center for the Arts, excitement is palpable among food enthusiasts and industry professionals alike. Here are five essential insights into this momentous event and what it means for Atlanta's dining landscape.
A Star-Studded Reveal Ceremony
The Michelin Guide's Atlanta debut will be celebrated with a grand reveal ceremony, featuring an exclusive guest list that includes Michelin chefs and prominent local culinary figures. The event will be emceed by Mara Davis, an esteemed Atlanta radio personality and host of the VoteHer podcast.
Where Can I Watch the 2023 Michelin Guide Awards in Atlanta?
While the ceremony itself is invitation-only, the good news is that eager foodies can catch all the action via a live stream on YouTube, beginning at 7:30 p.m. on Tuesday, October 24. This live stream ensures that gastronomy enthusiasts worldwide can witness Atlanta's culinary stars ascending.
Atlanta Joins the Michelin Family
Atlanta's inclusion in the Michelin Guide marks a significant milestone for the city's dining scene. It becomes one of the two new United States Michelin guides debuting in 2023, with Colorado having had the honor earlier in the year. This expansion underscores Michelin's commitment to recognizing and promoting exceptional culinary experiences across diverse American locales.
The Rich History of the Michelin Guide
The Michelin Guide has deep roots that extend back to the early 20th century. Originating as a series of guidebooks for motorists, the very first Michelin guide to France was published in 1900. Notably, this guide not only provided restaurant recommendations but also offered practical advice on automotive concerns like changing tires and finding fuel.
The iconic Michelin star ratings began in 1926, evolving into the tiered system we know today in 1936. Over the decades, the guide has become a symbol of culinary excellence and a trusted resource for discerning diners worldwide.
Atlanta's Culinary Companions in the U.S.
Atlanta now joins an esteemed list of U.S. cities and states with Michelin guides. New York City led the way in 2005, followed by guides for California, Colorado, Florida, Chicago, and Washington, D.C.
With the addition of Atlanta, more than 600 restaurants across the United States now boast Michelin stars, bib gourmands, and other prestigious distinctions, contributing to a total of 6,860 globally.
The Michelin Rating Process Unveiled
Michelin's meticulous rating process is shrouded in mystery no more. Restaurants under consideration undergo multiple inspections each year before receiving a Michelin star rating or bib gourmand distinction.
These distinctions are awarded based on five essential criteria:
the quality of products and ingredients,
the harmony of flavors,
the mastery of cooking techniques,
the chef's personality reflected in the cuisine,
and the consistency of both food and service across visits by Michelin inspectors.
A Michelin star signifies high-quality cooking worthy of a visit, two stars denote excellent cooking that merits a detour, and three stars signify an exceptional dining destination worth planning a trip around.
Additionally, the guide also recognizes restaurants with the Bib Gourmand status for offering high-quality food at affordable prices and those with sustainable and environmentally friendly practices with a Michelin Green Star.
As the Michelin Guide makes its debut in Atlanta, the city's culinary scene is set to shine brighter than ever. The arrival of this prestigious guide promises to elevate the city's reputation as a culinary destination while celebrating its vibrant and diverse food culture.
Whether you're an Atlanta local or a food lover from afar, the Michelin Guide's presence is sure to tantalize taste buds and spark culinary adventures in this thriving southern city.
The post 5 Key Insights into the Michelin Guide's Arrival in Atlanta appeared first on BuddyTV.