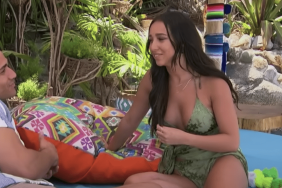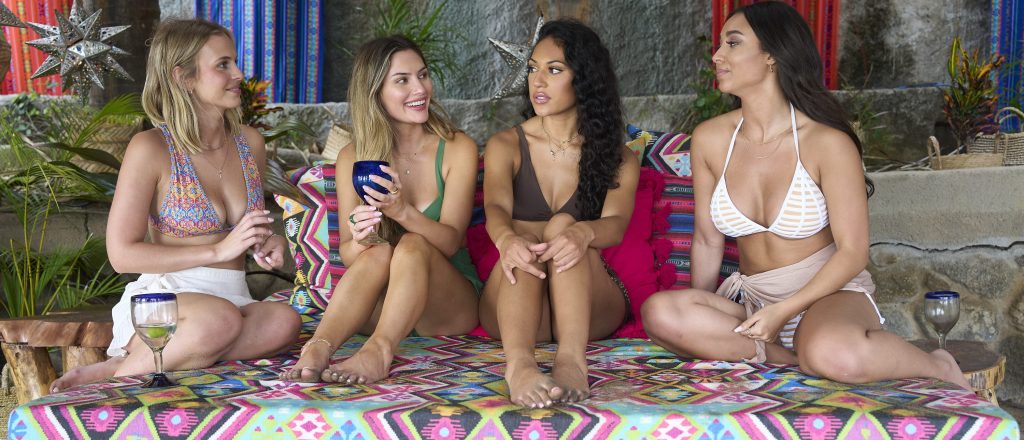 On Bachelor in Paradise, things had been going great for Samantha Jeffries and Aaron Schwartzman. Actually, poor Samantha has not exactly been "going" anywhere. She's approaching 10 days in Paradise and hasn't pooped. The doctor told her last night that if nothing had happened by sunrise today, she would have to go home and seek medical attention.
Unfortunately, sweet Aaron's Poo Poo Platter from the previous night had no effect. When Dr. Kelly stops by to check in, he tells her it's time to go – if only! Sam, whose on-screen name title says she's "Packed But Not Ready to Go," has to leave to get medical treatment. She gathers everyone together for a sad goodbye. I hope she and Aaron keep in touch. They really seem to have a connection. Or maybe Sam can come back after things work themselves out. It really is a crappy situation.
The ladies hold the power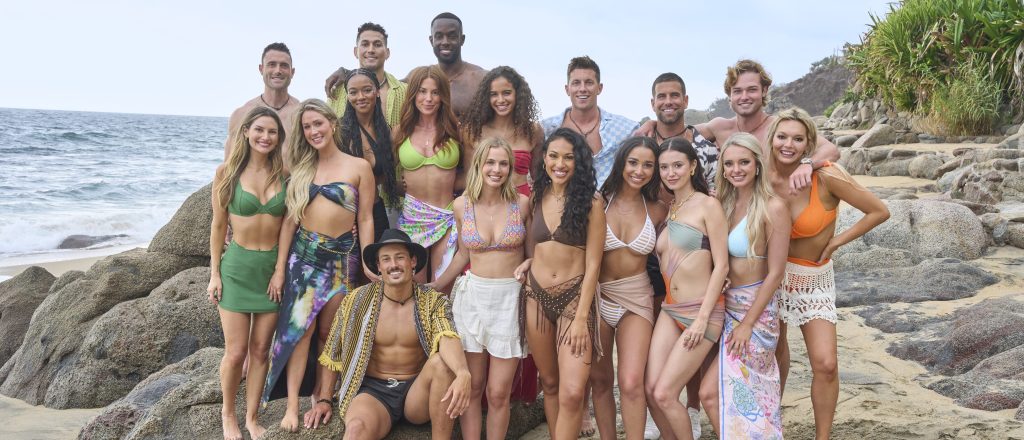 This week the power has flipped again. There are currently 10 men and only seven women in Paradise. That means at least three men are going home.
Brayden Bowers and Kat Izzo started out strong, but as soon as Tanner Courtad showed up and asked her on a date, the registered nurse dropped Brayden like a bad habit. Brayden thinks he got "hustled." Kat got his rose, then she bit off his head, like a Praying Mantis. He also calls her a "man-eater." Brayden's not upset or anything. Be thankful, Brayden. She released you from what could have been a nightmare of a relationship.
John Henry wants to get 'cheeky'
Oh! Here comes another cutie down the stairs. It's John Henry Spurlock from Season 20 of The Bachelorette (with Charity Lawson). He greets host Jesse Palmer and tells him he's super nervous. John Henry is hoping to meet Kylee Russell. Kylee is a popular girl!
John Henry is an underwater welder. That's one of the most dangerous jobs in the world. "Underwater in the dark, I'm good," he says. But the thought of meeting a bunch of beautiful girls in bikinis and drinking margaritas has him terrified. Jesse hands him a date card and sends him on his way.
After getting a very enthusiastic welcome on the beach (the women are all drooling), John Henry opens up his date card: "Let's get cheeky together." He pulls Kat, Kylee and Olivia Lewis to talk, and even though he came to meet Kylee, he decides to take Olivia on the date.
Olivia says yes, but unlike any woman before her so far, she first asks to talk to Peter Cappio, with whom she's been hanging out. Out of respect for Pilot Pete (not that one, the other one!), she wants to give him the courtesy of talking to him before ditching him for another guy. But Olivia came here to meet guys and have fun, so see ya, Pete! And off they go.
Strongest couple on the beach

Brayden thinks Aaron Bryant and Eliza Isichei are the "strongest couple on the beach … Nothing is going to come between the two of them." Oh, don't say that, Brayden! Somewhere Fate is saying, "Hold my beer."
And here comes John Buresh, another one of Charity's guys. I don't know who it was, but one of the women audibly gasped, "Yes!" when she saw John B. He's very tall, fit and cute. The ladies are drooling already. After introducing himself, he reads his date card: "Tonight is all about amor." He pulls Mercedes Northrup and Eliza to chat. Aaron should hold Brayden fully responsible for that. Poor Aaron pulls a beach towel over his head to hide his tears.
When he sits down with Eliza, John B. asks her if she knows what "amor" means. Oh, John. That's too cute. Of course, (almost) everyone knows that "amor" is Spanish for "love." Someone forgot to tell John.
Eliza tells John she's only talked to Aaron but wants to get to know other people. Isn't this what got you into trouble last summer, Eliza? So, of course, John chooses Eliza and breaks Aaron's heart.
The Paradise Truth Box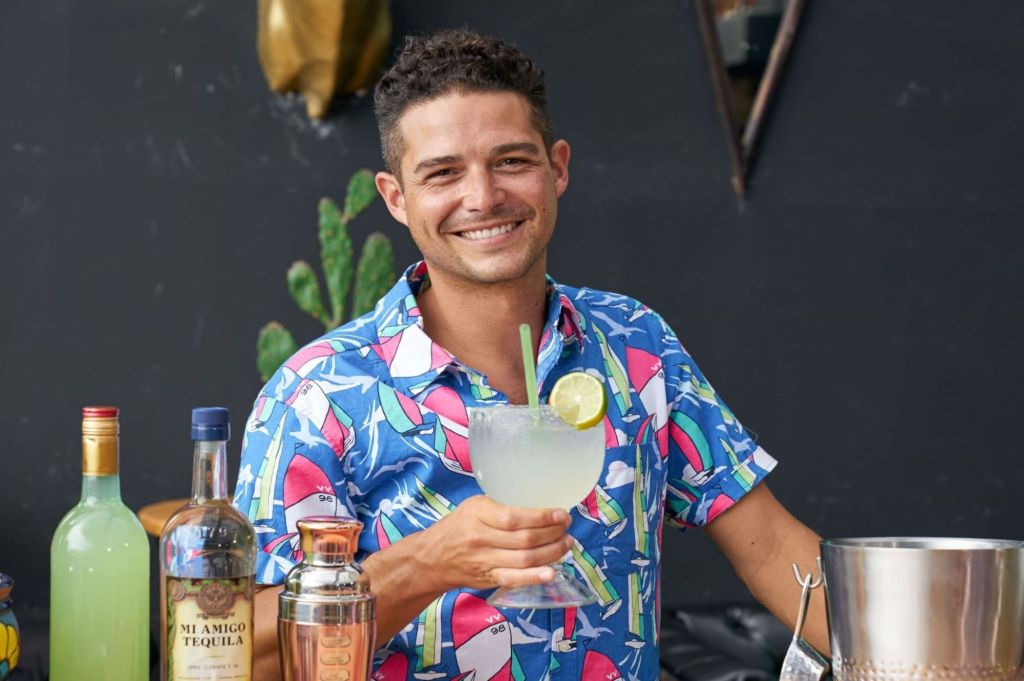 Suddenly, Bachelor in Paradise bartender Wells Adams calls out, "Hey, everybody! Come over to my bar!"
Once everyone gathers, he explains, "Sparks are flying, people are making out all over this beach. You guys are Paradising." Wells adds that every season contestants tell him, "I wish I had said the things that I wanted to say but I was too scared to say them."
He puts an ornately carved wooden box on the bar, introducing The Paradise Truth Box. "It's gonna stay here all summer long," he continues. "Anybody can write whatever they want and put it in that box." Tomorrow night Wells will open the box and read some of the anonymous comments out loud.
Olivia predicts, "The Truth Box is going to destroy at least one couple." Oh boy. This should be fun.
Sean makes a play for Jess

Speaking of truth, Sean McLaughlin admits that even though he accepted her rose, he doesn't really feel a spark for Rachel Recchia. He's pining for the Glitter Girl Jess Girod and decides to take his shot. He pulls her aside for a chat, but she's just not that into him.
Meanwhile, Brayden sees his opportunity to grab Rachel while Sean's away. "I think Sean's a great dude," the travel nurse says. "I just think he's an idiot." Well said. Blake Moynes encourages Brayden to go talk to Rachel. She's fair game since Sean's off talking to someone else.
So Brayden goes to Rachel and spills the beans that Sean's unsure if he wants a relationship with her. This is news to her. She needs a minute.
Sean's pissed off that Brayden basically "stabbed me in the back." Hey, all's fair in love, dude. Brayden's gotta take his shot, just like you did with Jess.
Rose Ceremony Night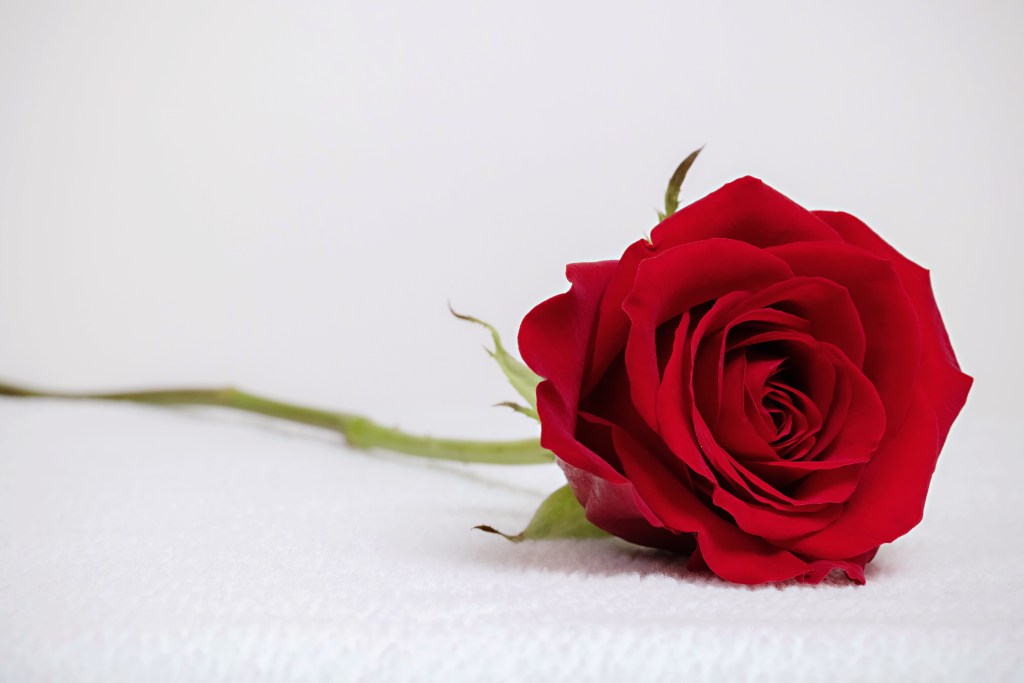 There are now 12 men and only seven women to hand out roses at the Bachelor in Paradise Rose Ceremony. The men trudge towards the pavilion, many of them uncertain if they'll get a rose. This may be their last night in Paradise.
After Jesse welcomes the group to the Rose Ceremony, they all head off to the bar for a drink. Wells announces that it's time to read some notes from the Truth Box, so let's get to it.
The first one was reportedly from Brayden complaining about Wells serving "half-shots of tequila." The next one says, "Brayden and Rachel should make out." I think Brayden's been stuffing the Truth Box.
Aaron S. gets a little frustrated with the silly comments being read. "There's a boxful of them that need to be read," he says, "because no one's talking to anybody." So he interrupts Wells, grabs the box and smashes it on the ground. "If this is my last night, I'll happily go home with two [middle] fingers in the air."
Wells tells him, "You broke it, you read it." Let's go.
The Bachelor in Paradise Truth Box unleashes a she-devil

The first one says, "Kat played Brayden." Yup, she did. That's true.
The next note says, "Tanner should watch out for Kat." Another tidbit of truth.
The next one is also about Kat. "I don't think Kat is watching out for Jess like she thinks." Brayden really has been stuffing the Truth Box!
Another note tells Brayden and Rachel they should make out (again). Definitely Brayden, who immediately asks Rachel if they can go "talk." This Truth Box is the best thing that ever happened to Paradise – and Brayden.
So they finally kiss. And sparks are prolific.
While Tanner and Kat are talking, Tanner tells her that Brayden told him to be "careful of Kat." This doesn't sit well with her. She goes into a production interview and starts screaming, "Why are we still talking about something that happened days ago?" Everyone on the beach can hear her.
Kat has no regrets and thinks she's done nothing wrong. She thinks she doesn't owe anybody any explanation. Kat is leaning into psychopath territory. Tanner should beware be afraid.
A surprising twist
Five guys are going home tonight, so the men are worried and searching for options they may have overlooked. John B. really likes Eliza, but she seems serious about Aaron B.
Aaron S. admits he's been frustrated with the process since Sam left.
Likewise, Sean realizes he's blown his chance in Paradise and accepts that he's probably going home. "I need a gift from the gods at this point," he says. Sean even quit his job to come to Mexico and compete on Bachelor in Paradise. He prays to the Paradise gods to "please provide someone open to dating someone 26 years old who looks like a Ken doll."
But wait. What's that? A pair of female legs are walking down the stairs to Paradise. Who could it be? Please, Paradise Gods, let it be Samantha for Aaron S. Sadly, we have to wait until next week to find out.
Bachelor in Paradise continues Thursdays on ABC.
TELL US – WERE YOU GLAD TO SEE KAT GET CALLED OUT FOR HER BEHAVIOR? WHO DO YOU THINK IS COMING DOWN THE STAIRS TO PARADISE?
The post Bachelor in Paradise Season 9, Episode 4 Recap: The Paradise Truth Box appeared first on Reality Tea.