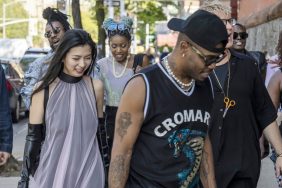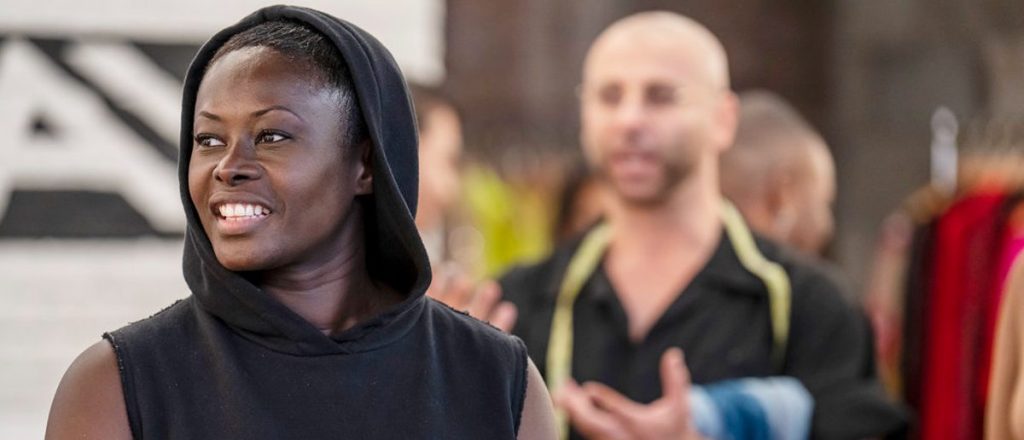 We have officially reached the halfway point of Project Runway Season 20. The All Stars are feeling the pressure in Episode 8, and before they leave for the night, judge Brandon Maxwell wants to remind them of their legacy. Now is the "time to fight," despite the fatigue setting in. With that, the designers were ready to continue competing. A video message from Christian Siriano promised a road trip, and everybody was very excited. Here's what went down on Project Runway Season 20, Episode 8.
All denim everything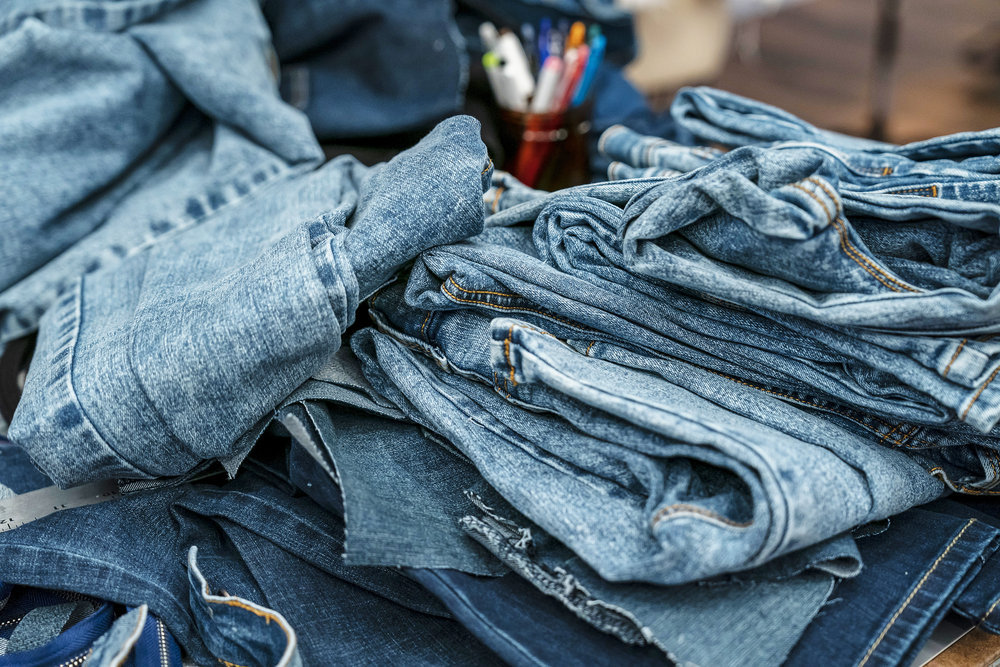 The eight remaining designers were ready to leave for their mystery destination at 8 a.m. They headed out to none other than Christian's newest store! There, they were taken to a room packed full of denim. Their challenge this week would be to create a head-to-toe denim look, high fashion, runway ready, showing the versatility of the textile. Not only that, but this would be a one-day challenge, and they'd be going head-to-head. As Kara Saun won the last challenge, she would be first to choose her opponent. She chose Anna, saying it would be an "interesting tossup." If the term "politician's answer" needed a definition, it just got one.
Christian selected names from a bag to determine who else would get to choose their adversary. Brittany was up first, and chose Laurence. Rami was next, and went with Korto. That left Bishme and Prajjé. Before a single sketch was done, it was clear that this week was going to include some of the closest competition of the entire season, if not the Project Runway series as a whole. The All Stars had a playful tussle over the denim available, and then headed back to the workroom.
Christian has something to say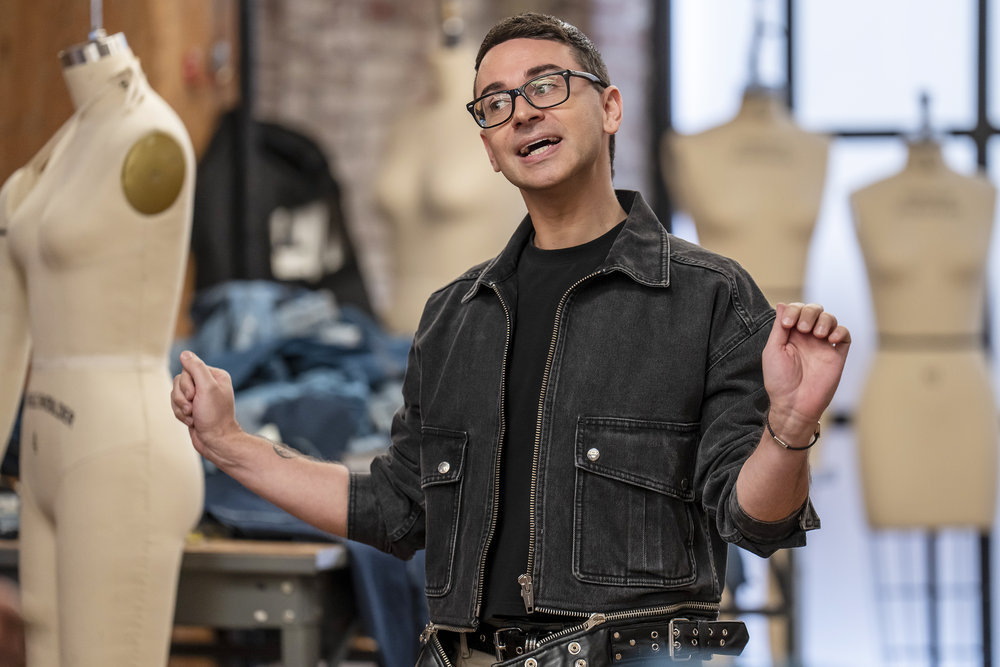 What's an episode of Project Runway without Christian spilling all the tea? While the designers may not think he's being all that helpful at the time, he is a former winner, and knows his stuff. If you want to tick all of the boxes for the judges, then he's absolutely worth listening to. You just have to execute his advice perfectly.
Speaking with Rami, Christian tells him he absolutely has to do the skirt he has sketched. "I'm dying … this could be a win." Over with Anna, he is aghast at her confession she has never worked with denim before. "There's a first time for everything," he says, noting he is "nervous" about her plans to bleach the entire design.
With Kara Saun, Christian is poking for info on why she picked to go up against Anna. Keeping it cute, Kara Saun drops a bit of shade in confessional. "Anna has a very different style, let's put it that way," she jokes. Over with Prajjé, Christian warns that "this is a lot of look." He also thinks that, with Prajjé having already done a number of jackets, he might want to try and surprise the judges. Prajjé sticks to his guns.
Christian calls Bishme's design "gorgeous," and hopes he has enough time to make his faux fur, shredded denim coat. He's also a fan of what Laurence has going on , describing it as a "couture denim gown … [I'm] obsessed." She was "shocked" Brittany chose her to go head-to-head with, and quips, "I'm definitely gonna miss her."
Then there's his advice to Brittany. "This is not the dress … are you nuts?" He calls it a "little boring dress you can get anywhere," and gives her some food for thought. She's gonna change it up. Phew.
Rule number 1: Don't burn the models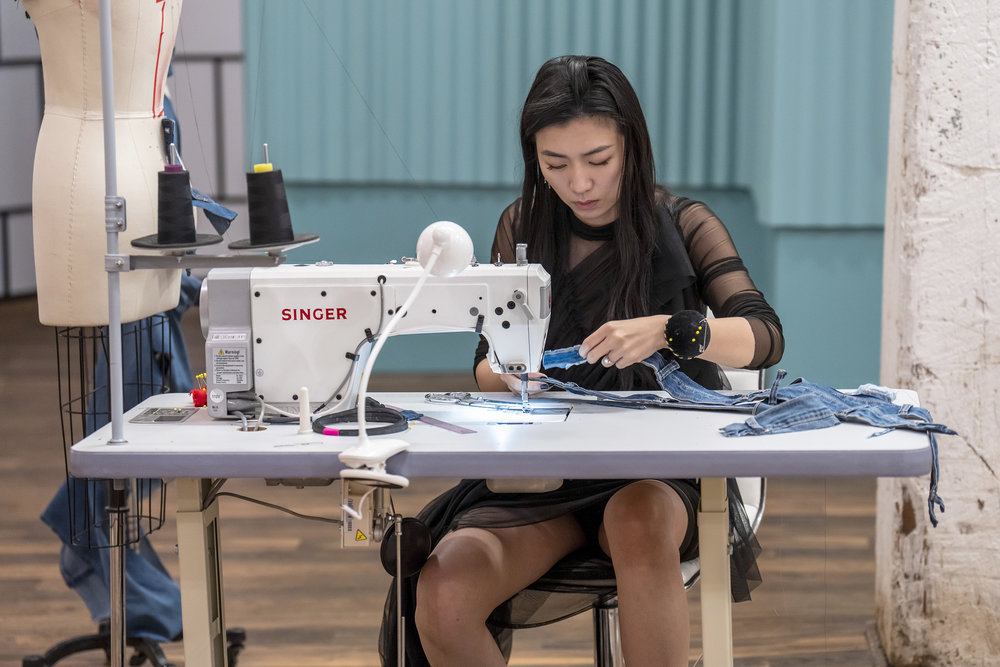 As the day comes to a close, Korto offers Anna some advice. She'll want to rinse off her bleached denim before the night's over, otherwise, it's going to burn the skin of the model who wears it. Anna seems to listen, but the advice goes over her head. Instead, she leaves the bleach as it is, on the fabric. When everybody retires to the Night Lounge, other designers warn Anna that her outfit isn't going to be wearable.
The second day comes around, and Anna has restarted her entire design. She's going to stick to the same concept, but has to create it, and fit it, within five hours. The runway awaits. "I will never touch bleach again in my life," she tells Christian. Korto teases that she's glad she washed her own bleached denim off the night before.
There's tension in the air, and Brittany snaps at Christian when he asks if she's done. "Would I be here if I was done?" she responds. It's all playful love, of course. With a deadline looming, the All Stars are bound to be wound a little tightly.
Project Runway: All Star Battle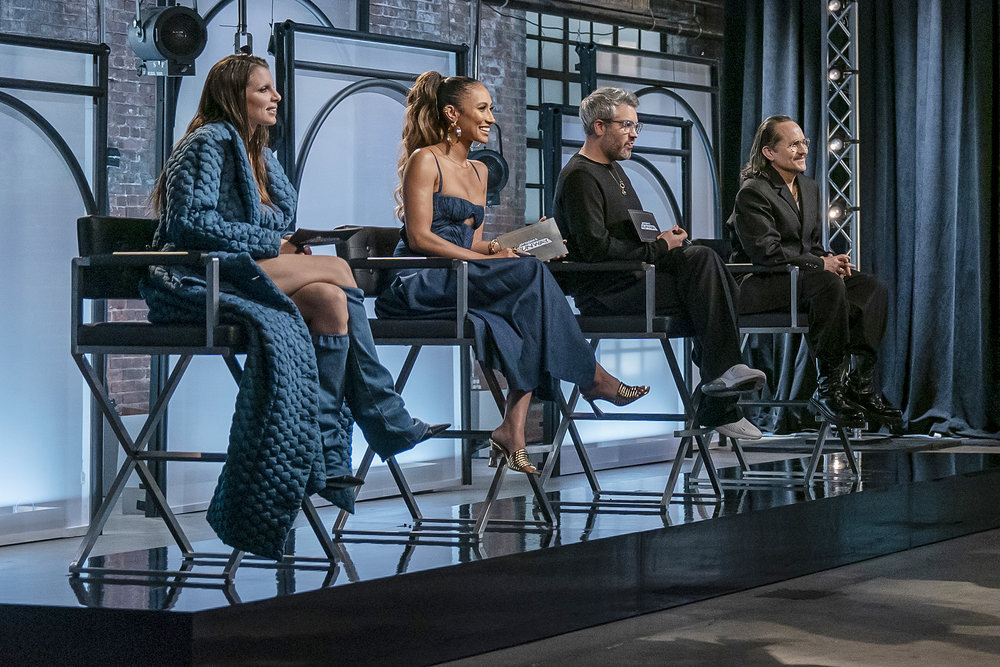 After hair and makeup, the models are runway-ready. Nina Garcia is absent from judging once again, so Brandon and Elaine are joined by denim expert Willy Chavarria, as well as guest judge Julia Fox. Even Elaine is stressed out by the head-to-head concept. Let's get to the looks, shall we?
Prajjé vs. Bishme: While the silhouette isn't a major serve, Prajjé still did an incredible job. His look is experimental. Unfortunately for him, Bishme manages to blow him out of the water. The faux fur jacket is everything. An iconic design that will be heralded as one of the best of the season.
Korto vs. Rami: Korto's tie dye risk pays off in spades. It's not your typical denim offering, and that's something to be applauded. Rami had some great cage detailing with his outfit, and the vest up top fitted perfectly.
Anna vs. Kara Saun: Anna's design came together great in just five hours. The cut-outs and silhouette is daring. This could have been even better given more time. Kara Saun's outfit is something you could wear everyday. The fit is fantastic.
Laurence vs. Brittany: Laurence delivers another couture, high-fashion moment. Madonna wouldn't look out of place wearing this design while on tour. Brittany also does an amazing job, with a gorgeous puffer jacket.
And the results are…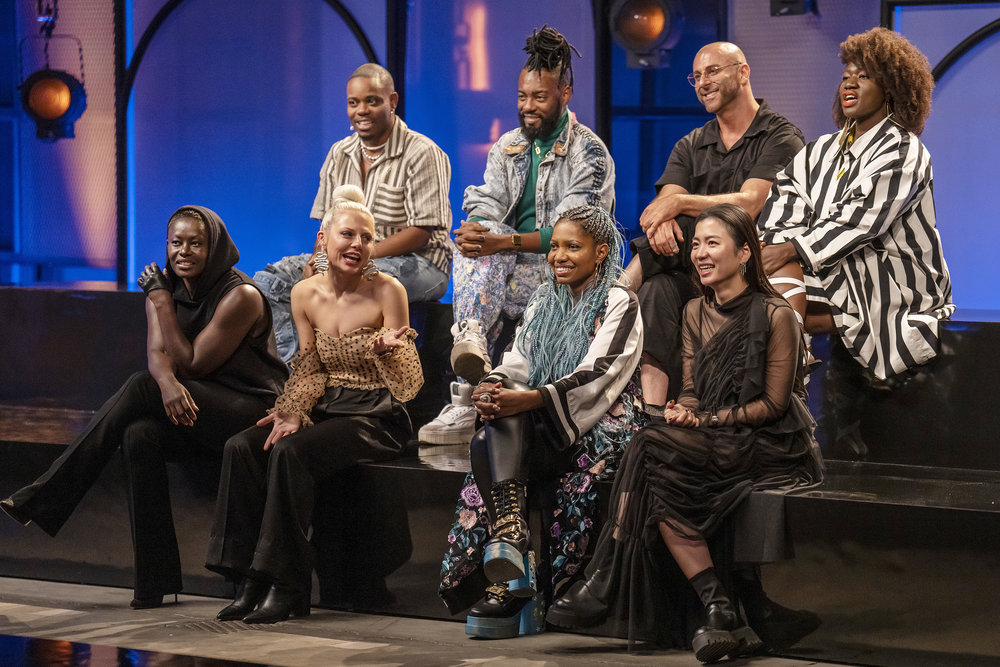 In the end, the judges had to decide who from each battle would be declared the winners, and be in with a shot of earning the $5,000 prize this week. Bishme, Korto, Kara Saun, and Laurence were all declared victorious. This meant Prajjé, Rami, Brittany, and Anna were at risk of going home.
Willy said Bishme's faux fur jacket gave the "same glamor" as real fur. Julia, meanwhile, "can't get enough of it." As for Korto's design, Julia noted that it "didn't even look like denim," which was "really cool." Brandon added that the "bleaching really invited us to look closer," which revealed some "great details."
Kara Saun's craftsmanship was described as "beautiful" by Willy, who said she was "phenomenal at this." Elaine added that the design was "so intricately made." It was Laurence who stole the hearts of the entire panel, though. Her look was a "full, couture, red carpet" one, according to Willy. Julia said it served an "amazing princess moment." Laurence was declared the winner of this week's challenge.
Who will be going home?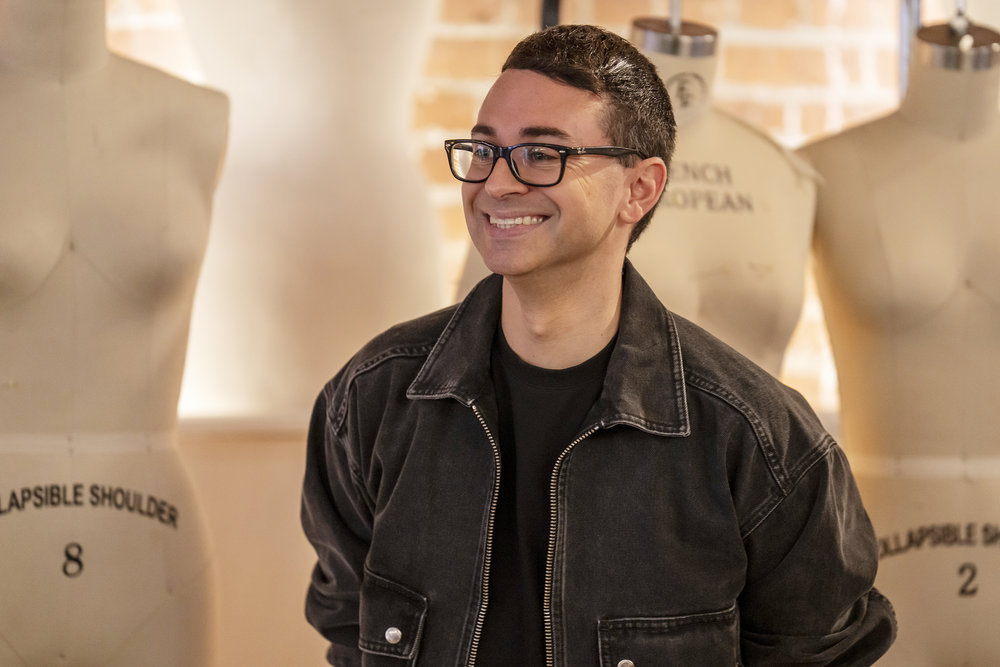 Despite losing her battle, Brittany impressed. Julia "loved the styling," and Willy thought the construction was "beautiful." Sadly, he "didn't get taken with the silhouette" of Prajjé's look, and Elaine "didn't need the face chains" added to Anna's overall concept. "All the elements today felt very torturous," Brandon told her. Rami's chain was "dated," according to Elaine, and Willy said the design "doesn't feel forward; doesn't feel modern."
"We don't all agree, but we know who's gonna go home," said Brandon, following a discussion with the rest of the judges. In the end, Rami was told he was "out." The "proud Palestinian has been nothing but a joy to watch this season, and that's why it was so fabulous to see Christian use his save this season to offer Rami another chance.
"I just don't want you to leave yet," Christian said, fighting back tears. "You're gonna show 'em." Rami told Christian of his pride, having been on the same initial season with him. It was a gorgeous moment, and I can't wait to see Rami kick some butt moving forward.
Next week: Below Deck captains and crew have an order to make, and both Kate Chastain, and Luann de Lesseps, join the judging panel.
Project Runway Season 20 continues Thursdays at 9/8c on Bravo.
TELL US – WHAT DID YOU THINK OF THIS WEEK'S CHALLENGE? ARE YOU GLAD CHRISTIAN SAVED RAMI?
The post Project Runway Season 20, Episode 8 Recap: I'll Meet You Halfway appeared first on Reality Tea.