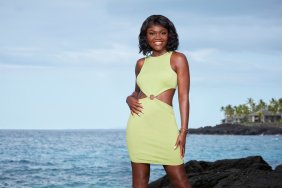 Temptation Island Season 5 just gets messier every week. For the first time in the show's history, there's a Temptation Light in each villa. It glows red at every point one of the members of a couple give in to temptation. That light has already been working overtime, and this week was no different. There was another series first in this latest installment. Here's everything that went down in Temptation Island Season 5, Episode 7…
Video messages from anybody, to everybody, making Temptation Island history
For the first time in Temptation Island history, the single Islanders will be able to send video messages to the partner of someone they have been getting to know. This is alongside the couples also being able to send a 30-second video message to their partner (or ex-partner) if they wish to. Kaitlin calls it the "make or break moment" for her and Hall, though that may have already happened judging by his behavior.
Meanwhile, Nafeesah is becoming unimpressed by Great's actions. He's daring to flirt with other women. She thinks that, because she has spent the past few nights in his bed, he should cut off getting to know anybody else. On one hand, I can see where she's coming from. But then I remember that he came into this experiment with a significant other, and that didn't stop Nafeesah from laying it on thick in an attempt to steal him away. If Paris wasn't his partner, I'd probably feel a little worse. As it stands, this whole situation is falling a little flat – and Paris is snogging Tahjjic's face off again, complaining about a lack of "privacy."
As the boys' villa enjoys a "Future Night," the girls' villa is getting down and dirty with a country theme. I lost count of how many times the Temptation Light lit up both villas throughout the night. "Save a horse, ride a cowboy," Marisela said of her growing relationship with Kristian. She has well and truly left Christopher in her rear-view mirror – and honestly, I don't blame her.
Nafeesah and Tamie's beef over Great continues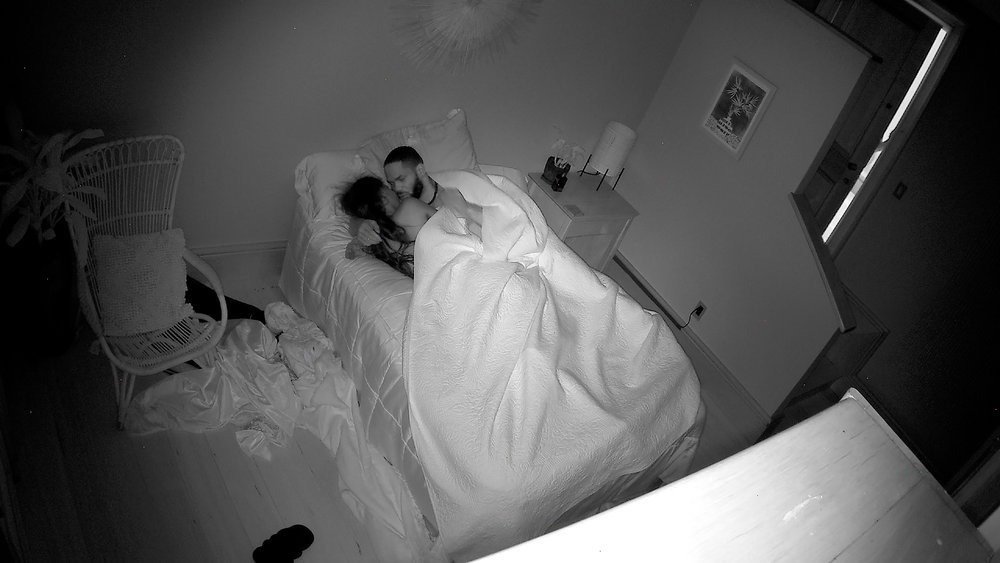 The party sees Tamie trying to make a move on Great. She asks him if he wants to go for a private kiss. He notes that he doesn't "wanna plan" a kiss; one should just come naturally. It's a nice way to let her down, but he should be even more upfront. Instead, he makes a move on Abby. This certainly came out of nowhere! "If I don't do this, I'm gonna regret it," he says in confessional. "I'm the main character." Um. Anyways. Abby rejects him, and he spends the rest of the night with his tail between his legs, apologizing to Nafeesah. She gives him one last chance, and the two share a shower.
Other notable moments from the parties include Marisela and Kristian going to bed together once again – thought she insists their physical connection doesn't involve sex – as well as Hall and Makayla, and Chris and Alexius continuing to grow their bond. Kaitlin also lets her hair down more than ever before, licking whipped cream off of Sebastian. She's felt a "shift" in Mike, who she was also getting to know, and isn't a fan of his jealousy.
The next day, Mike pulls Kaitlin for a chat. He wants to warn her that Sebastian isn't there for the right "reasons." He thinks that if she goes down a path of trusting with him, she'll end up hurt. While I actually agree with Mike, he's going about this all wrong. Kaitlin has to make her own decisions. Let's not forget, she is an engaged woman. She's not someone that Mike simply HAS to protect. For his part, Sebastian says he didn't want to catch feelings, but he has. Maybe he really is being honest with Kaitlin.
Video messages arrive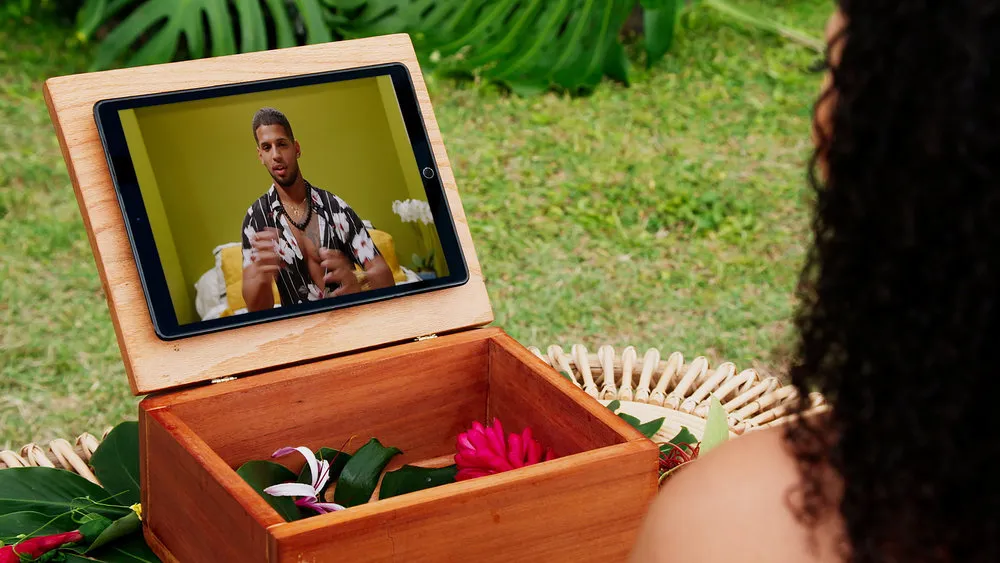 Vanessa and Rob are the first to receive their video messages from one another. Vanessa tells Rob she is "devastated," and sorry for hurting him. She doesn't think he's ready to be in a settled relationship, and is "looking for security." Vanessa ends her message by saying she hopes his "future decisions reflect the man I know you can be." A message from Bryce then follows, who warns Rob he will lose Vanessa if he doesn't "do better." Rob didn't get the change he was looking for from Vanessa in the video, but I actually think he's being a little harsh.
On his video message, Rob says he has grown on the island. It's the first time he's seen the "standards" he wants in a partner. Rob describes the two as a "toxic couple," who need to make changes. He loves Vanessa, but doesn't think she has "what it takes to change," but holds hope she can. Desiree then appears, and seems to give Vanessa a scolding. She purrs about her "emotional connection" with the "unique, special" Rob. Desi says he "deserves a partner who is emotionally available, not a partner who's controlling." In confessional, Vanessa explodes. "Who the f*ck do you think put in the work to make [Rob] like that?"
Chris and Marisela are next up. He's not expecting a message, but he gets one. She tells her now-ex partner, that she has learned so much. "I am amazing just as I am." Marisela thanks him for the time they've spent together, and wishes him well in finding "what you're looking for." Chris feels "guilty," and for good reason. He didn't even bother to send Marisela a message. Instead, she gets one from Alexius. "I see his potential," Alexius says of Chris. She tells Marisela off for "breaking" him. Marisela's unsurprised Chris wasn't "man enough" to speak his feelings himself.
More messages, before an early Temptation Island reunion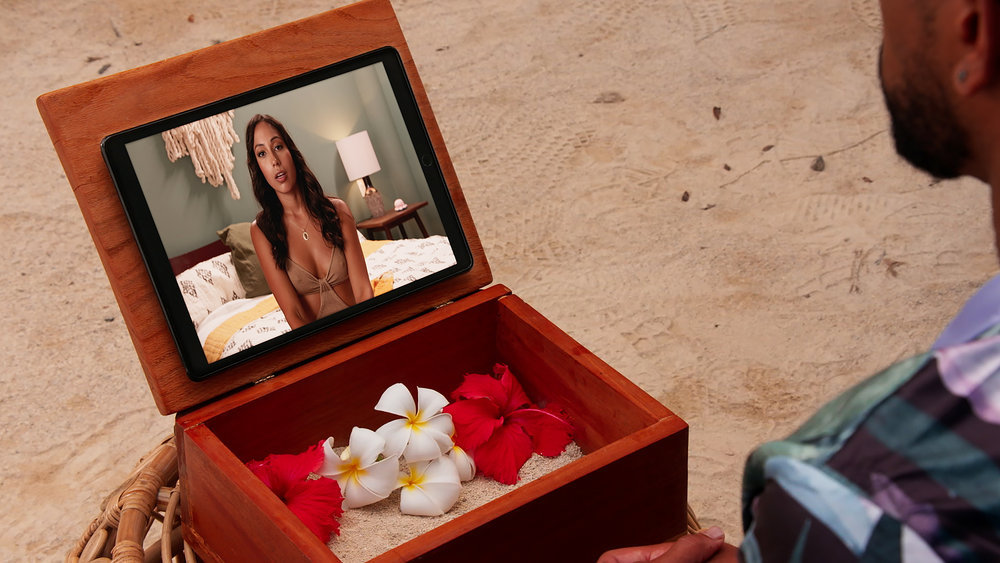 Paris and Great's video messages go almost as you'd expect. Great realized on the island he has trust issues, and has seen in Paris' behavior everything he is "afraid of." Paris is confused as to where she went wrong. Um, maybe when you were caught on camera immediately saying you would suck someone's d*ck if the cameras weren't around? Paris is a true enigma. The lack of self awareness is bewildering. Still, she's fantastic for reality TV.
Where things really get juicy, is with Hall and Kaitlin. Hall's video message is, as Kaitlin describes, very "surface." He doesn't commit to anything in particular. He comes off as stilted, and robotic. Kaitlin's message is a vast contrast. She is emotional, and makes Hall cry. "I love you so much," Kaitlin says. "You'll always be my greatest love." As for Makayla's message to Kaitlin? It's giving try-hard. She thanks Kaitlin for bringing Hall to the island, so she could meet her "soulmate," and feel what it's like to be "in love." Cringe.
Then, Hall does something very unexpected. He demands to speak to Kaitlin. Producers immediately get him in a car, and send him to the girls' villa, where Kaitlin awaits. "She deserves to finally hear the truth from me." Shocked at his arrival, Kaitlin asks, "What are you about to say?"
"I have to talk to you," Hall says, before breaking down. And then the credits rolled! We'll find out what happens in next week's episode, as Temptation Island Season 5 continues…
TELL US – DO YOU THINK HALL WILL CALL THINGS OFF WITH KAITLIN? OR IS HE GOING TO CONFESS AND BEG FOR ANOTHER CHANCE?
Temptation Island Season 5 continues Wednesdays at 9/8c on USA.
The post Temptation Island Season 5, Episode 7 Recap: Opening Pandora's Box appeared first on Reality Tea.