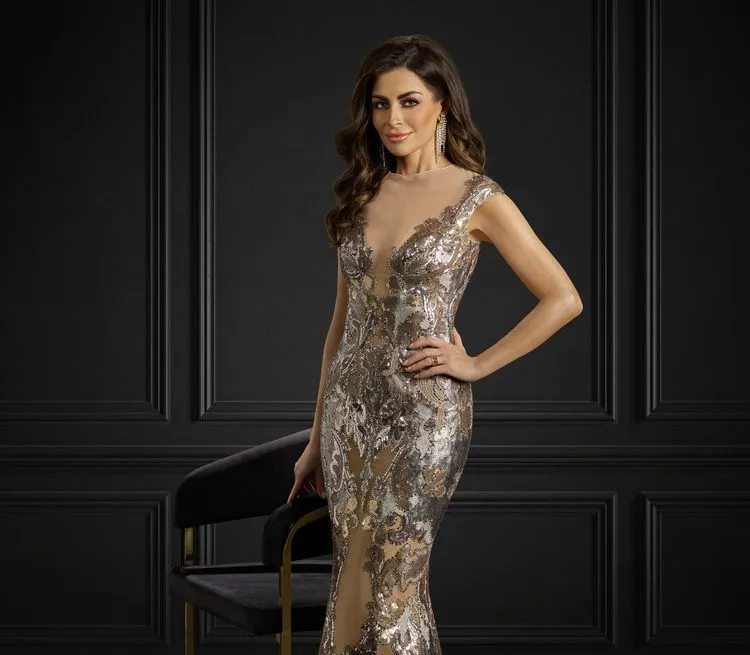 Who's ready for Season 2 of The Real Housewives of Dubai? Apparently, not Nina Ali. As production gears up for RHODubai's sophomore season, People has confirmed that the Lebanese businesswoman will not return.
She may not have had the biggest impact on the Housewives cultural zeitgeist, but at least Nina can say she made history. She is the franchise's first one-and-done Housewife. She took to Instagram to confirm the news and bid farewell to the franchise.
"It was an honor to be a part of the debut season of The Real Housewives of Dubai, and to help Bravo bring this beloved franchise to the city I call home," Nina wrote in a statement. "I'm grateful to the network, Andy Cohen, and the team at Truly Original for welcoming me into this extended family and for embracing the diversity of riches Dubai has to offer."
During Nina's time on the show, the mother of three introduced audiences to her rich Lebanese-American culture and her even richer lifestyle. She is the owner of a successful bakery and is a former Burj Khalifa resident. Nina's Season 1 storyline focused on her balancing the demands of family and business. Last season, her father struggled through a COVID infection. Nina gave audiences an emotional look into the impact it had on her family. Now, with Season 1 behind her, Nina says she's ready to shift her focus back to her business and family full-time.
She wrote in her statement, "2023 has already brought many exciting opportunities my way — including an emerging new business, new home and new adventures — so for now moving my attention away from the show will allow myself the space to focus on new challenges."
RELATED: Lesa Milan "Can't Stand" Her Real Housewives Of Dubai Co-Stars
Although she won't be a part of the show, Nina promised she'd still be watching her fellow Housewives. She wrote, "I wish my fellow Housewives all the best moving forward. I'll be cheering you on!" So, maybe she'll start a podcast like every other former Real Housewives star?
With Nina out of the picture for Season 2 of RHODubai, we're left with Lesa Milan, Chanel Ayan, Caroline Brooks, Sara Al Madani, and Caroline Stanbury. We all know that five Housewives is rarely enough to make a good season. So, we'll likely meet some new faces when the show returns.
TELL US – WHAT ARE YOUR THOUGHTS ON NINA LEAVING RHODUBAI AFTER ONE SEASON? DO YOU THINK SHE DESERVED A SECOND SEASON? DO YOU EXPECT ANY NEW HOUSEWIVES TO BE ADDED TO THE CAST FOR A POTENTIAL SEASON 2?
[Photo by: Chris Haston/Bravo]
The post Nina Ali Announces Exit From Real Housewives Of Dubai After One Season appeared first on Reality Tea.