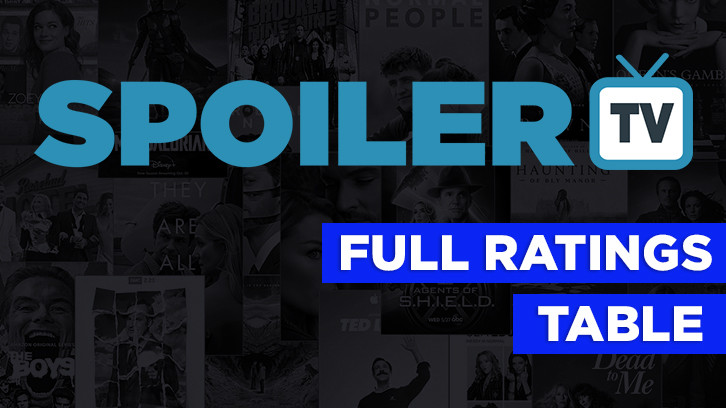 Welcome to this Season Full Ratings Table where we try to collate all the Broadcast Ratings for the Primetime Shows that we cover.
You can see the 2021/22 Table here.
And don't forget you can see the complete Ratings Database where you can compare shows, seasons and networks etc here.
Notes:
– These tables are just for the Broadcast Networks (ABC, CBS, CW, FOX and NBC)
– The % drop/gain calculations are based on show average compared to their premiere episode.
– The tables will be updated when the previous days final adjusted numbers are released.
– The Tables uses the Final Adjusted Ratings Numbers
We hope you find this useful. We'll be keeping these updated on a near daily basis. If you notice any missing shows/ratings or any other errors, please let me know in the comments.
This table won't be very accurate until we have around 3-4 weeks worth of data.
18-49 Demo Ratings
By Total Demo Drop
By % Demo Drop
Top Average Demo
Full 18-49 Demo A to Z
Total Viewers
By Total Viewer Drop
By % Viewer Drop
Top Average Viewers
Full Total Viewers A to Z
Network Averages
Don't forget to follow our Ratings Only Twitter Account for the latest Ratings News