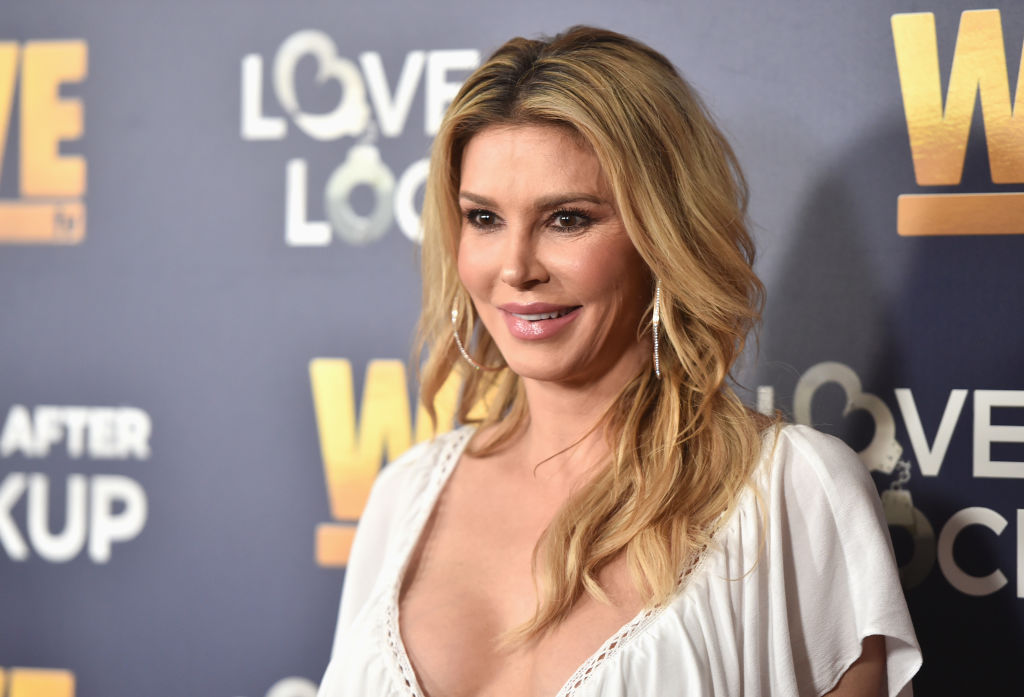 When the cast for Real Housewives Ultimate Girls Trip Season 4 was announced, I was thrilled. There were some veterans from Real Housewives Ultimate Girls Trip: Ex-Wives Club on the roster. Vicki Gunvalson, Eva Marcille, and Phaedra Parks were in the mix, as was Real Housewives of Beverly Hills alum Brandi Glanville.
Real Housewives of New Jersey OG Caroline Manzo packed her bags, along with fellow newbies Gretchen Rossi, Alex McCord, and Camille Grammer.
Brandi returning was a no-brainer after all the drama that she caused in the second season. She argued with Vicki and shaded Dorinda Medley's beloved Berkshires home.
And Brandi started the drama before the cast even began filming. She came for former Real Housewives of New York star Alex. Alex admitted that she hadn't been in the Bravoverse for a bit. She took to Instagram and asked for fans' favorite moments from each of her co-stars. She started the week with Brandi, but Brandi wasn't a fan.
"This b-tch ever heard of [YouTube]????? I hope this post got her a few new followers," Brandi tweeted. And we're off!
Brandi also stated her intention to resolve some "Twitter beefs" with former co-star Camille. "I'm going into it with an open heart. Like, I don't want to fight with anyone except for Camille [Grammer]. She's an idiot," Brandi explained. Oof.
Surprisingly, Brandi was "worried" about seeing Caroline. They had met before, but Brandi didn't find Caroline to be "super friendly."
The Season 4 group was filming last week in Marrakech, Morocco. And there was a major issue between two of the cast members during a party.
Three insiders told People that both Caroline and Brandi left the show early. The sources claim that Brandi reportedly kissed Caroline several times throughout one evening without Caroline's permission.
"It was unwanted. And Caroline's distress over the matter did not seem to stop Brandi," the insider stated. "Things escalated and physical boundaries allegedly were crossed that Caroline felt were serious and uncomfortable."
Production contacted higher-ups about the incident. Filming continued that night and the next morning. A second source said that when Brandi was made aware of Caroline's feelings, she apologized via text.
RELATED: Kate Chastain And Brandi Glanville Had A Spin-off In The Works Before Kate's Pregnancy
That afternoon, Brandi was asked to leave. "Brandi's behavior was inappropriate so she was asked to leave," a third insider shared. Caroline was unaware of Brandi's exit.
Caroline decided that night that she no longer wanted to film and opted to head home. The first source said, "She needed to process this outside of the reality TV environment."
According to the second source, Caroline's RHUGT co-stars and production supported her decision. Filming continued and wrapped up on January 28, 2023.
Representatives for Peacock, Brandi, and Caroline did not respond to People's request for comment.
This was Caroline's first foray back into reality television since her spin-off, Manzo'd with Children ended in 2016.
Brandi has been a visible presence in the land of reality television. She has appeared on Celebrity Big Brother, Celebrity Apprentice, and most recently Peacock's new competition series, The Traitors.
I was pumped to see both Caroline and Brandi on RHUGT. If the allegations are true, we probably won't be seeing Brandi back on Peacock, or Bravo, anytime soon.
TELL US- ARE YOU SURPRISED THAT CAROLINE AND BRANDI EXITED RHUGT EARLY? WERE YOU LOOKING FORWARD TO SEEING CAROLINE ON THE SHOW?
[Photo by Alberto E. Rodriguez/Getty Images for WE tv]
The post Brandi Glanville And Caroline Manzo Reportedly Exited Real Housewives Ultimate Girls Trip Season 4 Early After Drama At Party appeared first on Reality Tea.