Bodiella fans are not okay!
After working so hard not to give in to their attraction and desire for each other, Bode and Gabriella found themselves in a tough hot spot on Fire Country Season 1 Episode 12.
Sharon returned to work just as the firehouse welcomed a new probie.
Freddy learned he was dad, while Jake revealed to Eve he had matched Sharon's kidney.
A man nearly lost his life when he declined to leave his house after a plane crash started a fire in the forest.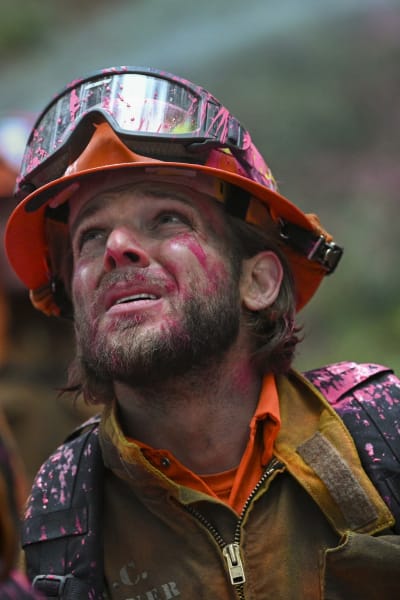 Sharon's return to work was a breath of fresh air. We hadn't seen her in action that much with what she had been dealing with, but her return was everything we could have hoped for.
In the infamous bridge rescue on FIre Country Season 1 Episode 8, the two captains from the different firefighting groups messed up, and we hoped it was a one-time thing. It is not good for anybody when those supposed to be leading distracts everyone.
Manny, Vince, we're on the same side.

Sharon
It was unprofessional to have them arguing over mundane stuff.
Sharon was there to show them the error of their ways, and they heard her. They worked together to find solutions when problems presented themselves.
A new probie joined the firehouse, and his first day was interesting. Colin was introduced as a son of a former legendary firefighter, and that came with its baggage already.
Although it was not explored in depth, he must have felt some pressure to live up to his dad's legacy. That kind of expectation is a huge weight for many people.
The other firefighters felt threatened by his presence in the house, given his connection with the Cal Fire and how Captian Leone was treating him.
The equivalent of Hollywood's nepo baby, "nugget," was used to describe him.
There were valid concerns he was allowed into the house because of who his dad was. This is a dangerous thing if true. Trust is the foremost thing firefighters have in each other. You should be able to trust that the person next to you wants to be there.
You have to trust that you can count on them if things go south.
Colin came off as a goofy kid who had reached the end of the road in his exploits and was looking for stability. Coming from a firefighting family, he kind of fell into it. 
In the future, it will be interesting to see how he fits into the house and whether he can hack it. Otherwise, he should have his quarter-life crisis someplace else.
Freddy became a father after his girlfriend delivered a baby girl. The reality of his situation hit him hard when he realized how restricted his life was.
That reminded Gabriella of a time when her father was also incarcerated and how isolating the ordeal could be. She provided much-needed support to him at that time.
The fire brought the team to the front of a house whose owner was unwilling to leave.
At first, he appeared like the kind of person who was overconfident in their abilities,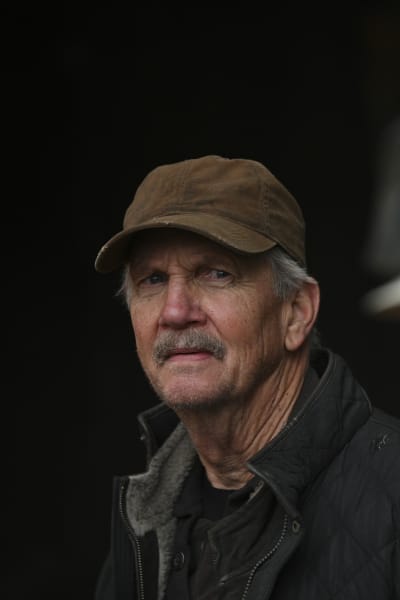 Initially, I had him pegged for someone overly attached to his belongings until we learned the whole story.
Fire and water are the most destructive elements, but he didn't seem to care.
It was understandable why he would not want to leave his place, but it reached a point where life became more important than everything else.
Bode matched his kidney with his mother, making him eligible to donate, but Sharon turned him down.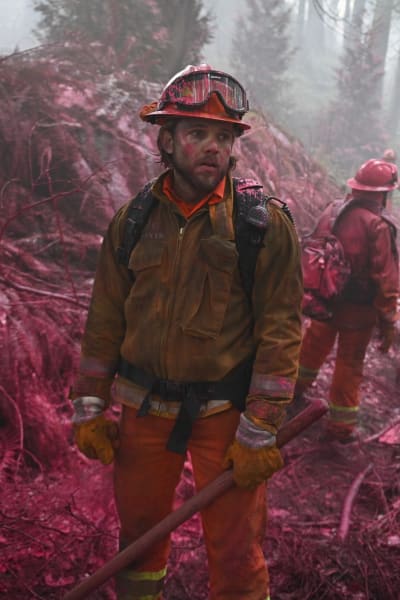 Any surgery carries its risk, even when the patient is as healthy as a horse. Sharon didn't want to deal with the loss of another child.
I'm not taking your kidney.

Sharon
Her fears were echoed by Jake, who also matched but hid his results.
Being a firefighter is Jake's whole life, and undergoing a major surgical procedure could jeopardize that.
While it's possible to become a firefighter without one kidney, it's not ideal.
Throughout the episode, Freddy kept championing Bode and Gabriella. We all could use a friend like Freddy to gas us up when we doubt ourselves or cover up crimes we haven't committed.
Whatever you heard, I didn't do it. Neither did Bode

Freddy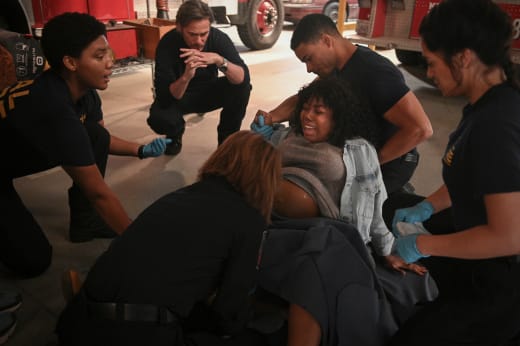 Bode and Gabriella tried to keep away from each other; we can give them that.
Them kissing, even briefly, was so out of character for Gabriella, who we know can be firm in her resolve, and she had vowed not to get with Bode after breaking up with Jake.
It didn't take long for Bode to wear her down, standing there looking at her with his puppy-like look, blue eyes, and a banger body.
You know what? She was a strong woman to have held out that long; many couldn't.
It is unbelievable they will be able to hold out for a whole year until Bode is released.
As the hour neared its end, multiple characters grappled with new developments that made them change their views on how they look at themselves. Jake started having an identity crisis while Bode begged his parents for a chance at absolution.
His overreliance on other people's validation is a major flaw Gabriella clocked quite early.
Bode: I'm trying to change Gab. I really am. For you.
Gabriella: Stop trying to impress me. You wanna change? Okay. Do it for yourself. Don't do it for me.
Wanting to change for the better is great, but it can be catastrophic when the motivation is not right.
Change should be innate and come from a personal desire to be better and not to try and impress people.
When trying to change for someone else, many people learn that whatever you do will never be enough for another person, or they might not care about you as much as you would care about yourself.
"Two Pink Lines" was a great episode that balanced action, character development, and jokes. All this was packed in a well-written package.
An arsonist was teased for the next episode. Manny expressed his desire to try and fix his life. With the actions taken by Bode and Gabby in this episode, how do they continue working together moving forward?
But before the next, we would love to hear your thoughts about this one. Did you like seeing Sharon in chief mode? Was the Bodiella kiss everything you hoped for?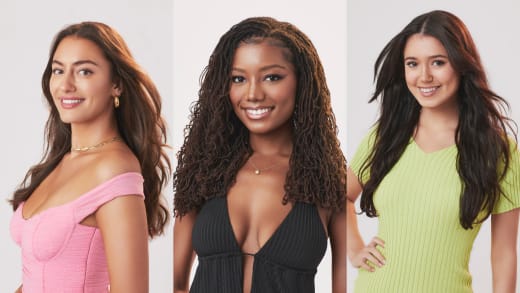 Hit the big blue "Show Comments" button and chime into the conversation.
As always, you can watch Fire Country online anytime through TV Fanatic.