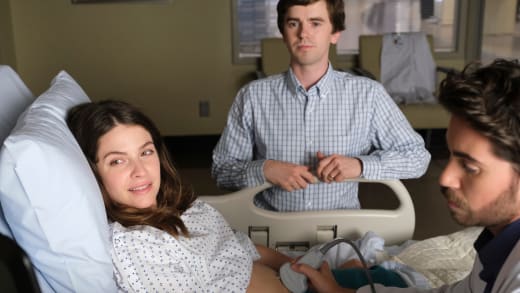 Thank goodness Lea and Shaun's baby was all right!
Whether or not you love Shaun/Lea as a couple, nobody wanted to suffer through a second miscarriage with them, especially if Lea had to have an emergency hysterectomy on top of it.
The Good Doctor Season 6 Episode 10 centered mostly on Lea's pregnancy complications, but the feel-good ending made it worth it.
Lea should have been working with a high-risk OBGYN who could help reduce the chances of miscarriage or other complications, given her history. But would Shaun let another doctor do their job instead of coming up with an experimental surgery that he thinks is superior to bed rest?
Of course not, and Lea's insistence that he be in the OR for the surgery could have been a fatal error.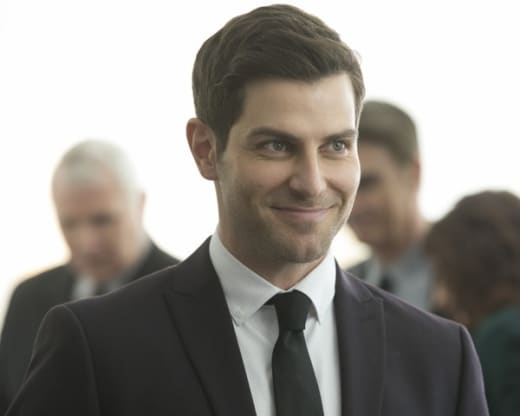 Shaun acted like the human equivalent of Chicago Med's OR 2.0 software, constantly telling the doctors that they were doing everything wrong and making a ton of unsolicited suggestions.
He was equally annoying and distracting, and even after Glassman threatened to throw him out, he didn't stop.
This scenario provided a textbook case for not allowing doctors to treat immediate family. Shaun was far too close to Lea to be objective and didn't accomplish anything but aggravating Glassman.
Kudos to Glassman and Lim for tuning him out enough to finish the surgery properly. Sheesh.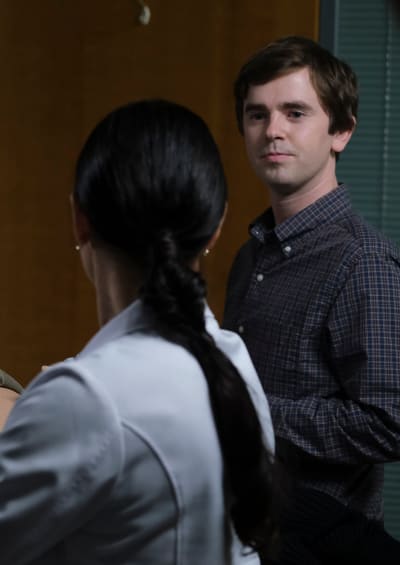 Shaun's insistence on taking care of Lea his way didn't end when the procedure did, either. He constantly hovered over her and tried to stop her from having visitors.
His idea of recovery probably ended up being ten times as stressful for Lea as it needed to be.
Shaun: You need to be monitored for several more days.
Lea: I can't do this for days on end, Shaun. I hate it here.
Shaun: You come here for work every day.
Lea: Not in this room, lying here, thinking about everything.
Asher was probably correct in his assessment that Lea's hatred of the hospital was partially because it brought up bad memories of her prior miscarriage. But she couldn't recover well with Shaun hovering and kicking people out.
Thankfully, Asher got him to see both points, and Lea got one good visit with Jordan before collapsing and having to be rushed back into surgery.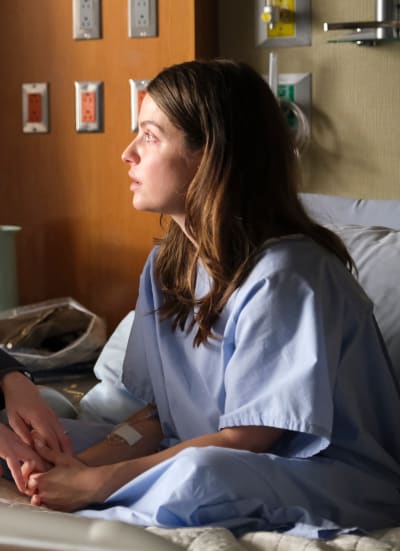 I was 99% sure that Glassman and Lim would save Lea and the baby, but that was still one tense surgery!
The doctors' inability to find the bleed and Lea's blood pressure and heart rate seeming to be in freefall made it seem like the worst would happen, only for them to discover a different solution at the last second.
The Good Doctor COULD have gone the other way. If Glassman's initial thought had been accurate, he would have had to remove the uterus, killing any chance that Lea could try a third time to get pregnant, along with the baby.
That tragic situation might have led to powerful drama, but it would have been excruciating. The raw, overly realistic problems that would have gone along with that scenario would have rivaled The Good Doctor Season 4 Episode 1 for the most difficult episode to get through.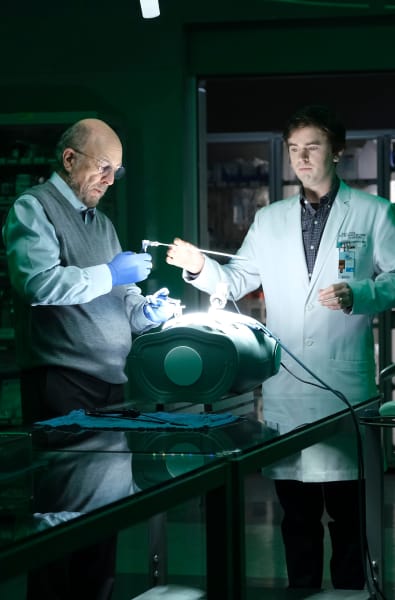 Thank God this went the other way! Strange as it seems, Shaun and Lea will finally be parents.
Whether their child is neurotypical or neurodivergent, this will be challenging, different, and new for them, and we'll get to find out how Shaun will deal with fatherhood.
It was somewhat silly that the entire medical team could drop everything to wait with Shaun, but it was also sweet. Shaun discovered how much support he had; he'll need to know that once the baby comes.
Shaun and Lea's dilemma dovetailed nicely with Park and Morgan's case, which involved a potentially-dying teenage boy and the mother trying to stay strong while he was again wheeled into surgery.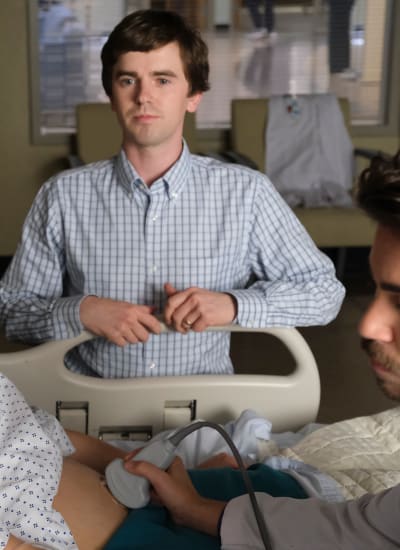 Just as Shaun wanted to save his unborn baby, Drew's mother wanted to save her child, encouraging him to agree to an extremely experimental surgery that might not buy him all that much time.
Morgan pissed me off when she tried to convince Drew to think about if he wanted the surgery. It felt like she was trying to convince him to give up rather than encouraging him to make his own medical decisions.
Drew chose to have the surgery anyway, but Morgan's attitude didn't help.
She's hoping to be a mother soon; hopefully, she'll understand the feelings behind Drew and his mom's decision better once she becomes pregnant.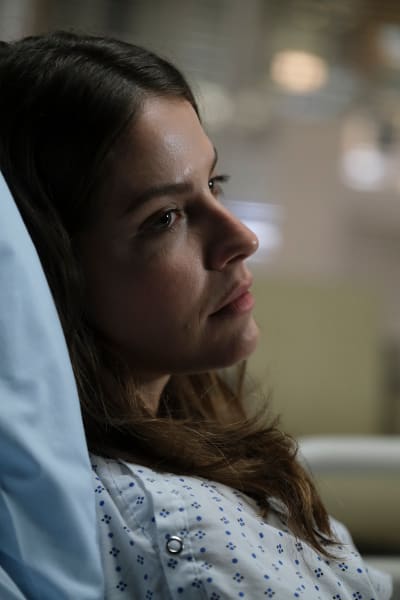 The writers needed to leave Morgan and Park's sniping on the cutting room floor. Morgan is determined to be a single mother, so she needs to lose her general snarky attitude, but Park was the worse offender this time.
Park: I know you'll be an amazing mom because you're great at whatever you put your mind to. I'm conflicted because I won't be part of it.
Morgan: Making my IVF journey about you is uncharacteristically self-absorbed. I'm impressed
Did anyone need all this back-and-forth about Morgan not wanting Park to be part of her attempt to get pregnant? I certainly didn't.
It added nothing of value and only served to raise my blood pressure. Morgan made it clear in half a dozen ways that she didn't want Park involved, so he needed to leave it alone.
Jumping ahead three months helped move some stories forward. Lea's pregnancy, Lim's recovery from surgery, and Perez's attempt to rebuild his life after his OD all benefited from the time jump.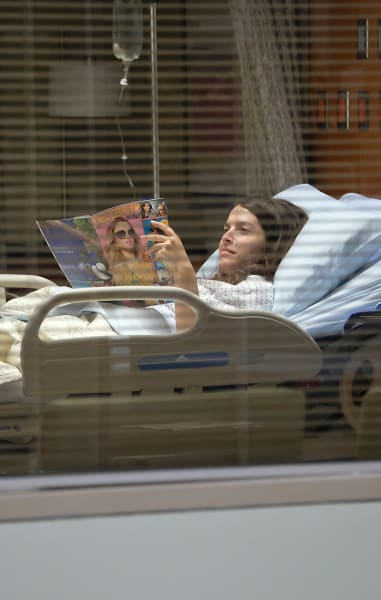 Lim's indecision about Clay's proposal could have become annoying, but it was a minor enough story not to be.
Lim: I love you. And I love us.
Clay: Always good to hear.
Lim: And I have decided I want to move forward, at the pace at which I'm learning to walk. Clay Porter, will you move in with me?
Her decision to give Clay a key made more sense for them. She's only been dating him for a few months, even with the time jump; there's no need to rush their romance.
Jordan supervising Perez was all sorts of weird, and I'm glad it won't be continuing.
She may be the most senior resident, but shouldn't supervising a first-year resident who has a drug problem fall to senior staff? Or at least to a full doctor?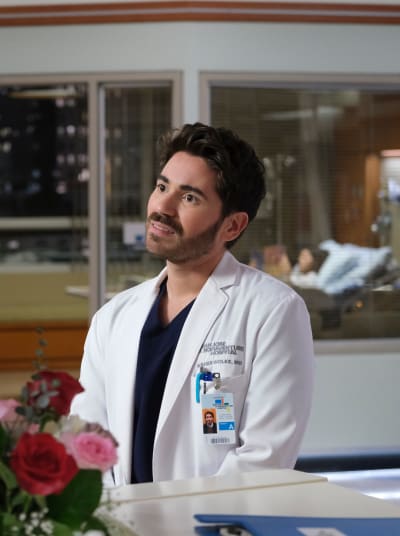 This scenario had one purpose: to create drama for these two as they continued moving toward a relationship. Now that they've cleared the air, they can take the next step.
What did you think, The Good Doctor fanatics? Were you surprised or relieved that Lea and the baby are okay? Did Lim's relationship drama make sense? And was I the only one who felt like there was too much Morgan this time?
Hit the big, blue SHOW COMMENTS button and let us know what you think! And don't forget you can watch The Good Doctor online whenever you'd like.
The Good Doctor airs on ABC on Mondays at 10 PM EST / PST.