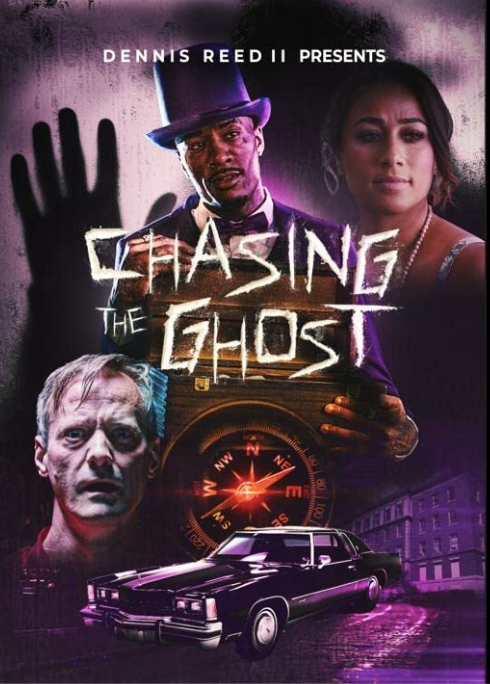 So how's this for a low-budget movie with actors I've never seen on the screen before, a horror movie that is in effect a nearly two hour PSA (public service announcement) on the dangers and damages of drug addiction not just to you but your family and close friends? I'd say Chasing the Ghost, which I just saw for free here on tubi (also a site I'm seeing for the first time) does a pretty good job of it. In fact, the more I think about it, the more I'd say this odd, compelling movie is memorable.
The set-up is the curse that's put upon our hero: either stay constantly high, or your beloved family and close friends will die, one by one, in no predictable order, so there's really no way you can warn them. How Clay deals with this I won't tell you (hence no spoiler warning), and I certainly won't tell you the ending, which was a bit of a twist, but I guessed would happen, but that's ok, the movie still worked for me just fine.
The narrative is fleshed out by all kinds of nice touches, ranging from light through Venetian blinds on characters that makes them look a bit like extra-terrestrials to a hot sex scene with an even hotter sex song that I also never heard before. (I couldn't find any identification of the singer or the songwriter either in the credits at the end of the film or on IMDb). And most of the action takes place in front of buildings that look like the Grand Concourse in the Bronx back in the 1950s — which adds a Gothic flavor these days — but probably is someplace much else.
Don Pesta as Clay was excellent, as was Nicole Alexander as his significant other Neveah, and Solo Lucci as Dion (not from Dion and the Belmonts, this Dion is the entity who puts the curse on Clay). The rest of the acting was ok, as was the background music, which had a suitable 1950s B-movie ambience.
I can even imagine this movie being shown in schools as an effective warning about drugs. On the other hand, that sex scene with that song …