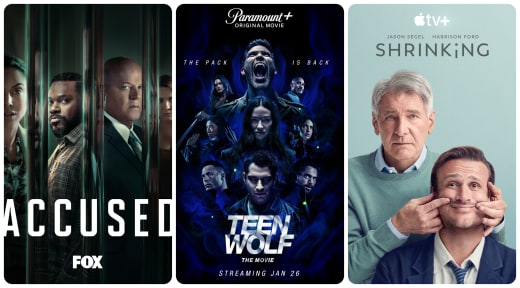 How long have we waiting for Teen Wolf: The Movie? The wait is finally over, and it's paired with Sarah Michelle Gellar's return to genre TV with Wolf Pack, both on Paramount+.
We've got the third movie in the second The Wedding Veil trilogy on Hallmark, a new anthology series on Fox, and a Jason Segal-Harrison Ford pairing on Apple TV+.
Find out what you need to watch this week below!
Saturday, January 21

8/7c The Wedding Veil Journey (Hallmark)
Tracy and Nick agree to set aside work to make time for a long overdue honeymoon to Greece.
When they wind up on a secluded island, they confront their life choices.
Will this be the end of our journey with Tracy, Emma, and Avery? We'll have to watch to find out.
8/7c Bad Behind Bars: Jodi Arias (Lifetime)
If you think you know Jodi Arias' story, it's only just the beginning.
A film picks up where things left off for Jodi after she got arrested and explores her life behind bars, which is more shocking than it has any right to be.
The full scope of this woman and what she's capable of is captured in another ripped from the headlines film.
Sunday, January 22

9/8c The Way Home (Hallmark)
Yes! Elliott knows what Alice knows.
The sneak peek below says it all. This episode will dive deeper into Alice's new reality, and we can't wait!
But what about Kat? How long until Alice's secret gets out? How will her mom and grandmother react?
9/8c Accused (Fox)
Accused is based on the BBC's BAFTA-winning crime anthology, in which each episode opens in a courtroom on the accused without knowing their crime or how they ended up on trial, the drama is told from the defendant's point of view.
In Accused, viewers discover how an ordinary person got caught up in an extraordinary situation, ultimately revealing how one wrong turn leads to another until it's too late to turn back.
Check out our interview with show creator Howard Gordon this afternoon!
9/8c The Last of Us (HBO)
The terrifying journey continues on The Last of Us Season 1 Episode 2.
Joel and Tess are desperate for answers after learning that Ellie is infected.
Will she be able to prove to them that she's survived weeks since the bite, or will they refuse to continue the journey?
This episode is a cut above the series premiere, delivering some truly shocking moments.
9/8c Mayfair Witches (AMC)
Rowan's quest for answers continues on the third episode of this series based on the Anne Rice books.
Alone in New Orleans, after a traumatic event, she heads out to the streets with the aim of finding out more about her past.
However, a chance meeting threatens to change everything.
Monday, January 23

Days of Our Lives (Peacock)
Now that Marlena's succumbed to the illness that Kristen could have cured, what's next? The three victims all awaken in heaven, where Marlena sees Susan — how soon will they be back on Earth and in the arms of their overjoyed loved ones?
Meanwhile, will Kristen really go to jail, or does she have another trick up her sleeve? And look for Stefan's revenge against EJ to hit a snag when the wrong person ends up with drugs in their system!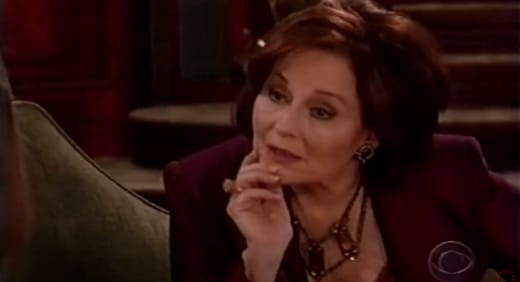 8/7c Fantasy Island (FOX)
Get your shades and pastel sports jackets ready! Three good friends ask the Island to take them back to 1980s Miami, so they can track down the fourth in their posse.
Daphne Maxwell Reid (Fresh Prince of Bel-Air), Brett Butler (Grace Under Fire), and Lynn Whitfield (The Josephine Baker Story) guest star.
Meanwhile, Roarke confides in Segundo, and Ruby gets antsy. Will Segundo have wise words to impart? Will Ruby get a chance to shake her sillies out? Maybe with a [REDACTED]?!?
8/7c All American (The CW)
When Laura throws Billy a surprise birthday party, everyone comes together to roast Billy, but Billy has a looming decision hanging over his head.
Spencer makes an effort to do what's best for himself, hoping it helps Olivia and him take a step towards moving on.
Jayme offers some sage advice to Asher about his speech with JJ, but she ignores her own about watching out for red flags.
Meanwhile, Jordan and Layla get in their first fight over something neither of them could have predicted.
8/7c The Bachelor (ABC)
Zach Shallcross gets another chance at love by headlining the 27th season of The Bachelor.
The Bachelorette alum's journey came to an abrupt conclusion on The Bachelorette, and now, he gets to have people vying for his heart.
It will be fun to see how that works out.
Check out the trailer below.
9/8c Alert: Missing Persons Unit (FOX)
Keith is not who he says he is, and Sidney isn't letting up on this mystery!
Sidney isn't afraid to confront "Keith" about her suspicions, and her friend, along with her knows the truth. But that tension brewing between them is enough to cause Kemi to express genuine concern about Sidney to Nikki and Jason.
Meanwhile, the MPU picks up a harrowing case full of lies, deceit, and pulse-pounding action. Viewer Discretion is advised for this one!
10/9c The Good Doctor (ABC)
Finally! After what feels like the world's longest hiatus, The Good Doctor is back, and it's not wasting any time before jumping into strong drama!
Lea and Shaun's surprise pregnancy takes a serious turn for the worse when Lea learns about a life-threatening complication. When she needs emergency surgery, how will Shaun deal with not being allowed in the OR?
Meanwhile, can Park and Morgan put their differences aside to help a teenager with a serious illness make the best decision for his care?
Tuesday, January 24

8/7c Night Court (NBC)
After a triumphant return to primetime, Night Court is in full swing with Judge Abby Stone wielding her gavel with attitude and aplomb.
But when things go a little sideways, we learn a lot about Abby as she suffers a crisis of confidence. Who will pull her out of her tailspin?
Meanwhile, there's trouble afoot when Olivia feels the cold shoulder from her usual boys in blue. When she gets an eager Gurgs in on the action, life gets a little TOO interesting!
8/7c The Rookie (ABC)
If you think Tim is going to be on a desk job for long, then it should be a relief to learn that Lucy and Harper will team up to find Tim a new position that's less boring.
A heatwave and citywide blackout leads to a series of crazy cases and havoc wreaked as Thorsen and Nolan are caught up with a string of criminals hiding out at the station.
Lucy happens across a body at a crime scene after responding to a pungent smell.
8/7c FBI (CBS)
A mysterious bioweapon leaves two MTA workers dead and one injured.
The team rushes to determine who is behind the attack and the location of their next target.
Also, Jubal's past demons begin to surface when the high-pressure case coincides with Tyler's latest health scare.
8:30/7:30c American Auto (NBC)
The Motors Payne team concludes that it's past time to turn the dealership around and improve some things in the season-premiere of this hit series.
Katherine and the others elicit the help of a crisis manager, Ian Osofsky in hopes of getting things off the ground.
They're also battling some negative press and attention after the company supposedly covered up defective auto parts.
9/8c The Winchesters (The CW)
The Winchesters is back after its hiatus and at a new time!
Following the events of the midseason finale, John and Mary watch over a newly returned Samuel Campbell, as Millie also spends a little time with him learning about the Men of Letters.
Meanwhile, when Lata and Carlos go off to investigate the death of a musician, Carlos is forced to relive a part of his past that he's been avoiding.
9/8c 9-1-1: Lone Star (FOX)
The 126 is bringing some bizarre, fun, and purely entertaining cases in the highly-anticipated premiere, and you don't want to miss it!
Owen finds himself involved with something way above his head, while someone from Carlos' past may seriously impact his future with TK.
And Tommy has the potential for romance when meeting a single father while responding to some crazy calls!
10/9c Will Trent (ABC)
When the GBI investigates two dead victims, they're forced to work with Ormewood and Angie to decipher the sinister mystery of what occurred in the woods.
As Faith deals with her own crisis, she and Trent grow closer as they open up about personal secrets and cement their partnership.
Will Ormewood and Will be able to bury the hatchet and work a case together without shedding more blood?
Thursday, January 26

Teen Wolf: The Movie (Paramount+)
Not to be associated with the Teen Wolf movie from decades ago, Teen Wolf: The Movie gets the gang from Beacon Hills back together.
Their issue: Suddenly, the long-deceased Allison Argent seems to be speaking to them from beyond.
If you were a Teen Wolf fan, this is everything you need in your life. Set aside a good chunk of your day to sink back into Beacon Hills.
Poker Face (Peacock)
Poker Face is a 10-episode "mystery-of-the-week" series following Natasha Lyonne's Charlie, who has an extraordinary ability to determine when someone is lying.
She hits the road with her Plymouth Barracuda and, with every stop, encounters a new cast of characters and strange crimes she can't help but solve.
The guess stars alone should be enough for you to tune into Poker Face!
Wolf Pack (Paramount+)
Wolf Pack comes from Teen Wolf creator Jeff Davis, but the two universes couldn't be further apart. The series focuses on teenagers affected by mysterious happenings during California wildfires, and the reaction to these happenings.
Sarah Michelle Geller returns to TV as an arsonist investigator, and it's a very different change of pace for her.
We'll be running a spoiler-free review on Monday, followed by interviews and episodic coverage. Check out the trailer below.
8/7c Law & Order (NBC)
Teenagers do stupid things in order to get attention and become popular, and this time, the quest for internet fame turns deadly.
Cosgrove and Shaw are shocked to discover the lengths some kids will go to after investigating the case of a teen's death.
When the case goes to trial, Maroun and Price find themselves going in circles while trying to prosecute the right person for the crime.
9/8c Welcome to Flatch
Last we visited Flatch, Shrub had taken steps to get to his long-lost father through an online acting class, and Cheryl had stolen her remaining chickens from Father Joe after a drunken escapade with her new gal pals.
Meanwhile, Kelly might finally be getting the acknowledgment from her deadbeat dad, who seems to be more aware that she exists. Or maybe he'll go back to his old ways. Who knows?
If that sounds intriguing, tune in this week as plot points come to a head at the agricultural fair.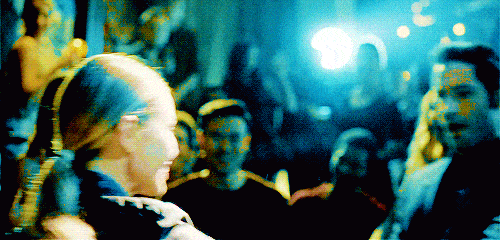 9/8c Law & Order: SVU (NBC)
Bensler shippers, your night may finally be here! As Benson and Stabler work together to put Oscar Papas away and stop BX9 from re-forming, the two share a moment that might lead to a kiss.
Meanwhile, Velasco goes to extremes to get a witness to cooperate and Fin tries to help a woman who was drugged and left for dead. Whether you're here for romance or action, this SVU is one that is not to be missed.
​​
10/9c Law & Order: Organized Crime (NBC)
Stabler's been motivated by grief over his wife's death, but why is Bell passionate about catching mob bosses? We're about to find out!
Bell's former partner is also dead. We don't know yet if it's a romantic ex or someone she worked with, but either way, a mob had something to do with it. And once Bell learns what happened, she wants the people responsible taken down!
Meanwhile, what's with Stabler's secret mission? Please tell us he's not going back to undercover work!
Friday, January 27

Shrinking (Apple TV+)
Do we need another show about psychologists? Uh, yeah! Especially when it stars Jason Segel and Harrison Ford.
Shrinking follows a grieving therapist who starts to break the rules and tell his clients exactly what he thinks. Ignoring his training and ethics, he finds himself making huge, tumultuous changes to people's lives … including his own.
You will not want to miss this delightful show, and even better? We'll be covering it weekly!