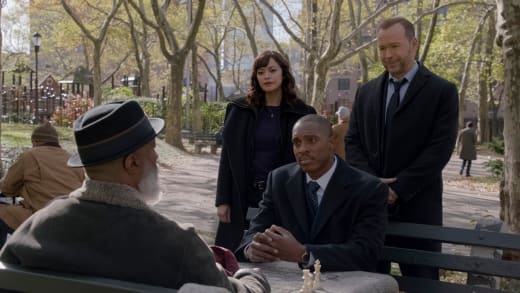 Danny's done many favors for fellow cops, so who expected his friendship with Acosta to turn into a date?
On Blue Bloods Season 13 Episode 11, it seemed like Danny was helping Acosta out because he felt guilty that she got hurt while covering for him after Linda's death.
That's typical Danny. Deciding to ask her out on a date — after Sunday evening dinner, no less — wasn't.
Blue Blood fans have debated Danny's potential love life since Linda's death. Some fans ship Danny/Baez, while others think that's a terrible idea and would rather Danny date Maggie, the psychic played by Callie Thorne.
It's fine for Blue Bloods to bring someone new in for Danny, but it's irritating that he's supposedly known Acosta for years, yet we've never heard of her before.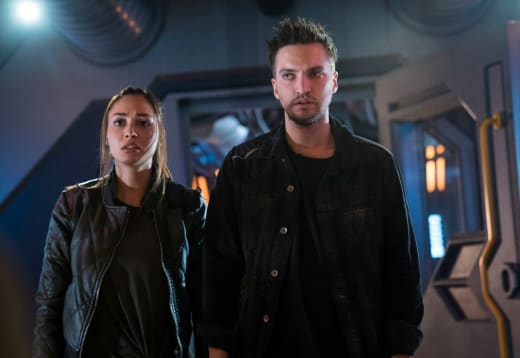 Frank never did either, but that makes sense. Danny felt guilty that Acosta got hurt covering for him, and if he was attracted to her at the time, it was too soon after Linda's death to consider anything new.
But the audience could have been keyed into a greater degree than Frank. We didn't need to know that Danny had feelings for Acosta, but some interactions between them over the years would have been nice.
This new relationship had the feel of something made up and shoehorned into Danny's backstory to make it make sense. After Linda died, there was never any mention of this Acosta person before, and Danny never took any on-screen time for bereavement.
That's partially because Amy Carlson declined to renew her contract, and Blue Bloods Season 8 Episode 1 picked up six months after Linda's death without any indications beforehand that she was gone.
Thus, any bereavement happened before we caught up with the now-widowed Danny.
As an aside, I can't believe it's already been five years since Linda died! It doesn't seem like it's been that long at all.
Danny: Laura was there for me when Linda died. That's all there was to it.
Frank: You know, you, me, and Pop are the same in a lot of ways and we've tried to make a lot of things stick. One thing we all have in common is that we all lost our wives way too soon. Me and Pop, we've made our peace with it. But you were a lot younger than us. Maybe don't follow in our footsteps in that way.
Five years on, it makes sense that Frank would encourage Danny to move on. This isn't the first time he's given Danny advice like this; it's only the first time Danny has acted on it.
Of course, we don't know yet if things will work out. Danny might date Acosta a few times and decide there's nothing there, opening the door for a different romance.
While Frank probed for Danny's feelings about Acosta, the favor Danny asked for was taken care of off-screen.
Frank's interactions with Sid and Garett while he tries to navigate the politics of his office are a big part of Blue Bloods. The only such scene Frank had this time was a brief conversation with Sid, and he spent his time dealing with Danny's potential love life instead of Acosta's disability pension issue.
That's too bad; it would have been interesting for Frank to go up against the medical board, and I'd have loved Garrett's reaction to this.
At least Danny and Baez had an interesting case, though it seemed more like a vehicle for Danny to connect with the victim's son over guilt and loss.
I wanted to know more about this chess hustler that died. He sounded like he was fairly well off, but he was part of a traditionally homeless community.
The ending of the story felt rushed. Danny and Baez found out off-screen that Damien didn't kill Shy and that the man likely overdosed on purpose, but there was no real reason given for his decision to complete suicide.
I get that the point was for Danny to advise Eric not to let the guilt eat him alive and to read those letters his dad had left for him instead. But it felt like there were a lot of loose ends here.
Jamie's story also left a lot to be desired.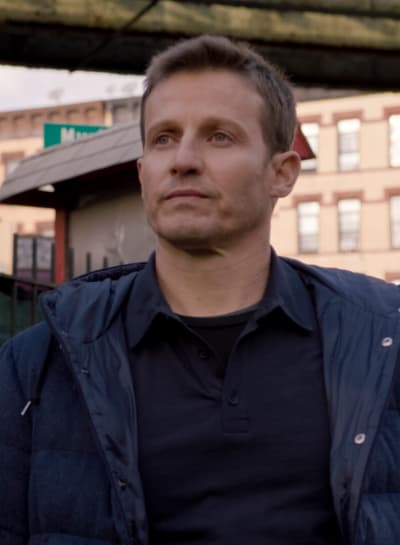 The story of Jamie trying to make amends to a guy he arrested unfairly could have been great.
Instead, we got vignettes of Jamie dragging this guy all over town, trying to give him second chances that he neither wanted nor needed. Liam made it clear he wasn't interested in Jamie's friendship or attempts to help him, and he kept getting annoyed that Jamie stopped him from losing his temper.
After a weird encounter with a bartender who refused to make a Bond martini properly, Jamie suddenly popped up at a garage with Liam, where some guy agreed to hire him even though Liam threw a tantrum about needing help fixing a car.
That was all for naught; the garage guy never appeared again, and instead, Liam took a random person hostage to force Jamie to arrest him because he preferred the structure of life in jail.
Um… okay. What exactly was the point of this bizarre story?
The idea that some people can't function outside of jail, especially when they're thrown back into civilian life with no support, could make for a compelling story, but this wasn't the way to do it.
There wasn't even a coherent story here. Jamie mentioned at the bar that he wanted info on Liam's accomplice, Russo, but that got lost in the shuffle after Liam almost got in a fight with an inept bartender. Then, it was another day without warning, and Jamie was helping Liam get a job at a garage.
None of it made sense. It was random scenes of Jamie trying and failing to help this guy.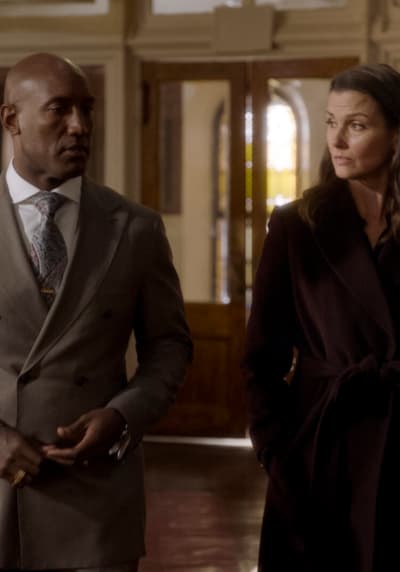 Erin's story could also have been stronger.
The ethics of the pastor asking for a quid pro quo weren't a part of this unless you count Erin and Crawford deciding to work together so they could bring the guy down for offering them both the endorsement as if this were a bizarre reality show.
When all was said and done, they got justice for the kid — and revenge because they suddenly uncovered that the pastor was collecting money for "charity" and using it to line his pockets.
The idea of Crawford and Erin trying to work together instead of against each other was compelling, but it only got one scene. And what will happen to their respective campaigns now that they're no longer enemies?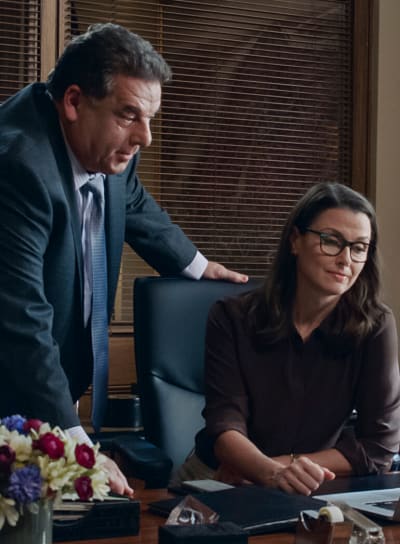 What did you think, Blue Bloods fanatics? Am I too hard on this episode, or was it one of the weaker installments?
Hit the big, blue SHOW COMMENTS button and let us know your thoughts!
Don't forget you can watch Blue Bloods online any time you'd like.
Blue Bloods airs on CBS on Fridays at 10 PM EST / PST.