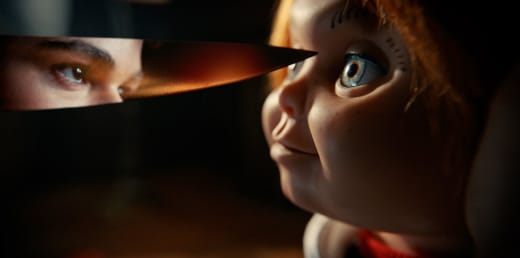 SyFy had some excellent news for fans of Chucky and Reginald the Vampire on Sunday.
The cable network renewed Chucky for Season 3 and Reginald the Vampire for Season 2.
We have to admit, we were a bit worried about the future of both shows, especially given that Chucky was previously picked up for its second as the freshman season was airing.
SyFy shared in a press release that Chucky ranks as a top-10 cable drama for 2022 in the 18-49 demo with a week of DVR factored.
"The cast and crew of 'Chucky' would like to thank fans and critics alike for their overwhelming response to season two, which we're delighted to announce has now spurred the official greenlight on season three," said EP Don Mancini.
"This news has made Chucky very happy."
"Thank Damballa for that because otherwise Chucky would have been frankly impossible to deal with."
"Many thanks also to our partners at SYFY, USA and UCP for helping us keep Chucky busy."
"See you in 2023 for what Chucky himself promises will be his scariest season ever."
Reginald the Vampire didn't pack as much of a punch in the numbers as Chucky, but the network revealed that it was cable's #2 drama in the timeslot it aired.
"The only thing better than getting the opportunity to make a season of television with SYFY is to get the opportunity to do it again," said executive producer Harley Peyton. 
"All of us – cast and crew, writers, producers, and — can hardly wait."
The series is based on the book series by Johnny B. Truant.
Both shows join Resident Alien and The Ark on Syfy's slate.
A premiere date for Resident Alien Season 3 has not been determined, but Dean Devlin's new sci-fi drama The Ark is on tap for February 1, at 10/9c.
What are your thoughts on these two renewals?
Were you waiting a long time to find out the fate of your favorite shows?