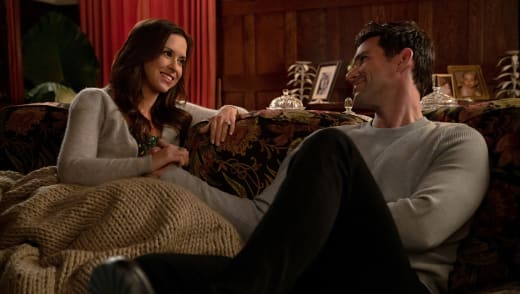 Now that you've watched The Wedding Veil Expectations, were you as charmed with the continuation of Avery and Peter's relationship as you were when they met in The Wedding Veil?
If you read our earlier interview with Lacey Chabert, you might have noticed a reference that felt unfinished.
Well, it was unfinished because Lacey shared her thoughts on some of the movie's specifics, and we wanted to ensure you'd had time to see it before digging in.
From my perspective, there was so much to enjoy about The Wedding Veil Expectations, and as Lacey noted in the previous interview, seeing how Avery and Peter's relationship has grown is just one of the aspects that makes this second trilogy worth the effort.
There were some really funny scenes in general, but especially between Lacey and Kevin McGarry, who plays Peter, which we didn't want to spoil.
There is also some conversation around this new avenue of Hallmark programming, which has never been done with regard to marriage and family after the traditional meet cute.
Inspiring Expectations' comedy was how concerned Avery was about getting pregnant again after they had been disappointed by a previous miscarriage.
Avery put Peter above herself, wanting as much information as possible about the pregnancy before sharing with it Peter because she couldn't imagine his heart breaking again if things didn't go well.
Instead of it being a somber secret that she carried, Avery struggled to keep her excitement under cover.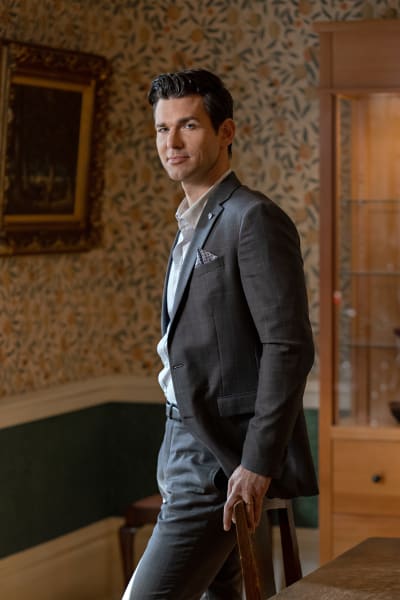 Lacey shared, "I think that Avery obviously has a big secret that she's trying to tell Peter and share with him in the most perfect way. And as life typically does, things get in the way and spoil the surprise.
It ends up being something that happens in a very organic and real way. And because of that, a lot of comedy ensues. I think there are a lot of real-life moments that end up being comedic beats for the movie."
One of my personal favorites came later after Avery let Peter in on her joyful secret. As a result of her fibbing to keep that secret, Avery wanted to buy a minivan rather than admit she'd lied to a friend.
Lacey laughed. "Because she has to! Avery is so pure of heart, she has to make it the truth. She can't live in a lie."
Even better was just how easily Peter went along for the ride by accepting her needs and committing to buying that minivan.
"Yes," Lacey said. "I really think they are examples of characters who put each other first in their relationship. And I think that's really beautiful and sweet."
Lacey shared in our earlier interview how much her deepening friendships with Wedding Veil costars Alison Sweeney and Autumn Reeser have meant to her, as they all share a very particular experience within the entertainment world as leading ladies with Crown Media.
They've learned to lean on each other in that regard as they raise their families within that experience.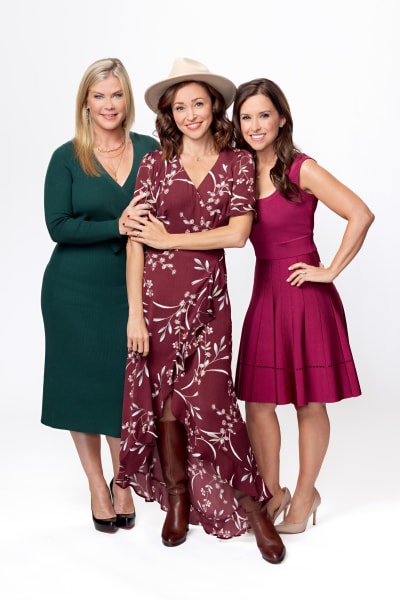 The Wedding Veil Expectations brings forth an entirely new concept. It's the first time we've explored a relationship after marriage and into childbearing, and Lacey shared her thoughts on bringing marriage and pregnancy to Hallmark.
"I think it's such a beautiful experience. For me, being pregnant and the excitement of awaiting the birth of our daughter was just the greatest blessing," Lacey shared.
"I think it's been really nice for me to tell that particular part of the story in Wedding Veil and get to walk that journey with Avery because it is such a special time. And everything in my life, as I have different experiences and grow and have my own life experiences, I think it all just informs the stories that I tell and the work that I do.
"I always try to bring as much of myself to it as possible to make it as real as possible."
In the first trilogy, possessing the wedding veil impacted everyone's life similarly.
As to whether the second trilogy is going to follow that same pattern or if each chapter will find its respective lead experiencing something unique, Lacey said, "That's a great question because the answer is yes and no.
"We see that the legend of the veil continues and continues to affect other people's lives, but the next step, now that the three women are married, that they take in life do all look a little bit different in their own ways because they have their own challenges.
"I think they're also surprised by choices that they make. And life can surprise you, and the path can be a little bit unexpected at times. And we see them all grapple with that."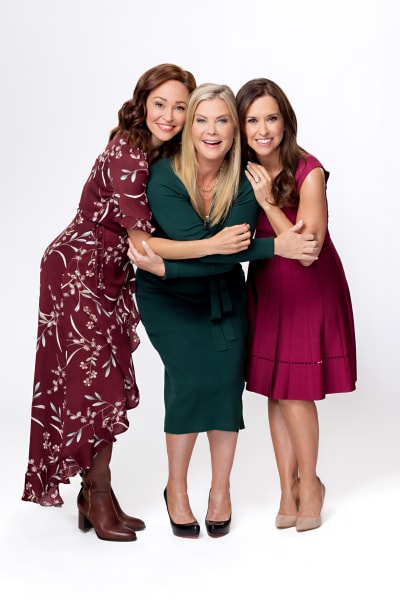 I don't know about you, but I'm eager to see how the next chapters play out. The next two movies are The Wedding Veil Inspiration and The Wedding Veil Journey.
The Wedding Veil Inspiration premieres on Saturday, January 14, and finds Emma (Reeser) teaching, working hard to prove she can step into the role of department chair as Paolo's lace shop is about to open.
When Emma bumps heads with the current department chair, she begins reevaluating her life choices. With Paolo's support and maybe a little veil magic, Emma hopes to find the courage to stop planning her life and start living it.
The Wedding Veil Journey premieres on Saturday, January 21 at 8/7, and finds Tracy (Sweeney) as the head of the auction house and Nick's restaurant such a success that he's considering expansion.
The price of their success has been robbing them of time together, so they agree to take a long-overdue honeymoon to Greece for some rest and relaxation.
An unexpected travel delay costs them their reserved hotel, but staying instead on a remote island could be a dream come true.
We're excited! How about you? Share your thoughts about the latest chapter in The Wedding Veil trilogy below!