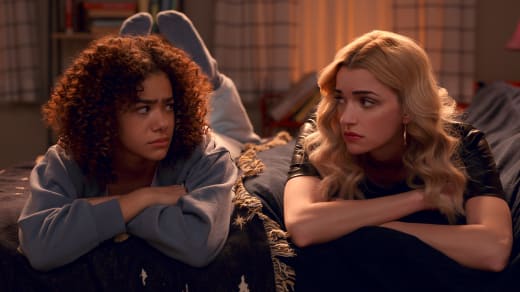 The apple doesn't fall from the tree.
Austin and Ginny protected their mom in Ginny & Georgia Season 2 Episode 9, showing domestic violence's dangerous effects.
Neither child knew how dangerous Gil turned out to be.
Ginny & Georgia Season 2 Episode 9 was uniquely told in flashbacks and expanded on the storylines from Ginny & Georgia Season 2 Episode 8.
I'm unsure this kind of storytelling worked since many fans wanted to get straight from the cliffhanger to the shooting. It did explain more about Gil and Georgia's relationship.
The pacing was off and would have worked better if they had delved deeper into Cynthia's state of mind or Ginny's point of view about Marcus's depression in the previous episode.
Things become misunderstood easily among teenagers. Marcus has been so depressed that he hasn't done his school essay, and Ginny took it personally again.
When she became upset, she acted as melodramatic as her mother. Maybe Marcus needed time to decompress and didn't want to hang out all the time.
Ginny never stopped to check in with Marcus. She just assumed he wanted to break up. She got signals from Padma and her mom that something was wrong, yet she was a self-absorbed teenager.
Ginny's mental health arc was written beautifully. While I love that we understand teen depression better, I wish Marcus had a better support system and treatment plan. Men's depression isn't featured nearly as often as women's.
Cynthia and Georgia's friendship has seemed odd but somehow needed. Even though she was a member of the neighborhood club, Cynthia doesn't seem to have any real friends checking on her and Zach.
As she cared for her dying husband and her young son, she needed someone to understand. With all her faults, Georgia provided comfort.
Did Georgia end Tom's suffering at Cynthia's request, or did she make that mercy killing by herself? I'd hate for that to be the crime that Georgia gets charged with. I know it's against the law, but she did that to help someone, while some of the other crimes were debatable.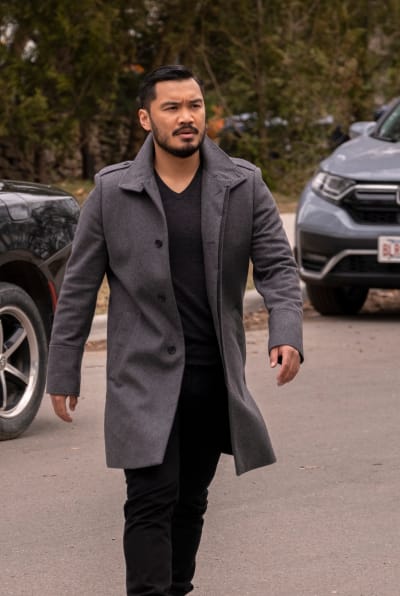 While I enjoyed Cynthia and Joe's friendship, as I mentioned in Ginny & Georgia Season 2 Episode 8, I hated that they used Cynthia to make Georgia jealous.
Joe was my preferred love interest for Georgia. He had known her since they were teenagers, and he understood her. However, it was unfair for Joe to wait for her since she was now engaged.
Unrequited love is painful, yet there was a connection every time Joe and Georgia shared scenes. We just haven't seen them in enough longing scenes in Ginny & Georgia Season 2 for the payoff to be worth it.
You're getting married, so I don't want to interfere with that. But do you have feelings for me? Because, dammit, Georgia, there's something to feel, right?

Joe
While there is still chemistry between them, a love triangle doesn't seem fair since Paul and Georgia's wedding is days away, and I don't think she'd cheat on him.
Domestic violence is a serious topic and one that isn't portrayed enough.
Gil: There is nothing more dangerous than a beautiful girl.
Georgia: Sure, there is. A violent man.
Like many abusers, Gil blamed his anger on Georgia's mistakes. The more we saw of his outbursts, the more I understood why young Georgia tried to escape from him in the past and why she framed him for fraud. He kept abusing her; she was young and needed a way out to protect the kids.
Gil assumed he had the upper hand, but he forgot that people were watching him and how Georgia reacted around him. Georgia was a survivor, so seeing her skittish sent off warning bells.
I can do whatever I want. I have the upper hand now. Whatever I do, you're stuck with me.

Gil
Abusers grow even more dangerous when they can't control their victims anymore, and Georgia wasn't a complacent teenager anymore.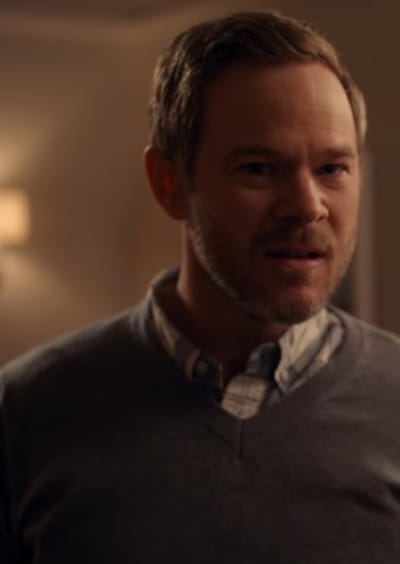 Gil should not have had access to the Miller home. They need better locks. It bothered me that he waltzed right in like he owned the place.
Even if Cynthia stopped Gil's apartment application to protect Georgia, he couldn't control the entire town or take his frustration out on Georgia.
Watching Gil hit Georgia will traumatize both kids, as will the fact that Austin shot his dad.
The apple doesn't fall far from the tree. Austin and Ginny would do anything to protect their mother, but now they had to learn how to clean up crimes at an early age.
Georgia: I'm always going to protect you guys.
Austin: I'm always going protect you, Mom.
Georgia: I know, honey, but I can protect myself. I can protect all of us.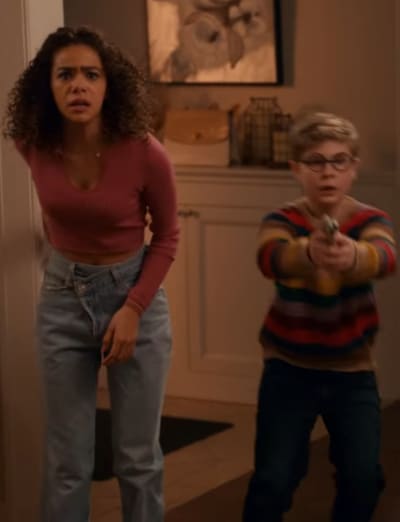 That was more than any child should have endured. Children should never witness their parents abusing each other.
While it saved Georgia, children shouldn't know how to handle a gun. Georgia swore to Paul there were no more guns in the house.
It's more than that. Seeing Gil attack their mom removed any disillusions they had about him. Even Ginny remembered him as this fun guy that brought her gifts. Now, Austin was afraid of his dad.
Gil may never repair his relationship with his son if Georgia even lets him see Austin.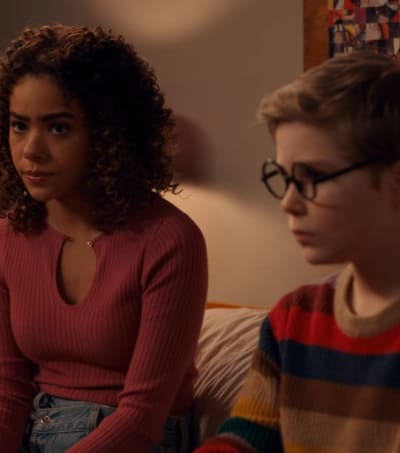 With another crime committed and another secret to keep from Paul, will the wedding happen.? Georgia must tell Paul the truth before the truth catches up to her, so she and the kids can stay in Wellsbury.
Are Georgia and the kids going to run again? Will she ever get the happy ending she deserves?
Will Marcus and Ginny find their way to one another? Let us know in the comments.
Ginny & Georgia Season 2 is streaming now on Netflix.