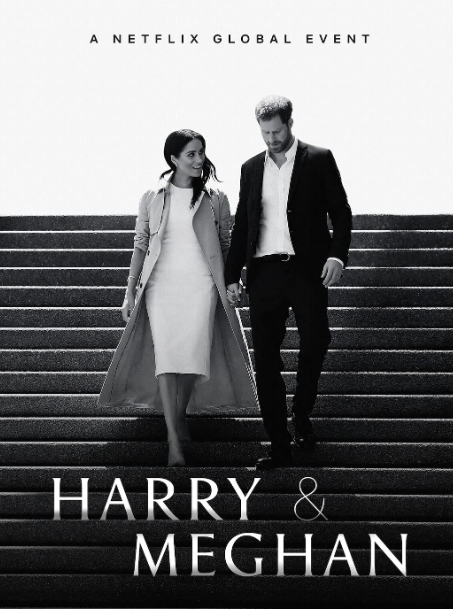 I'm not so much a royal watcher as a lifelong student of media (and professor of media studies at Fordham University), so it was through that lense that I watched and really enjoyed the first three of six episodes of the Harry & Meghan documentary on Netflix.
Meghan is unique among the royals for several reasons. The most interesting and important, I'd say, in the long run, is that she was already a success in the media before she met Harry. Although Suits on the USA Network isn't quite up there with LA Law or Petrocelli, the legal drama ran for nine seasons, and Meghan played a major role as Rachel in seven of them. This means that Meghan has a comfort with media, an understanding of its levers, challenges, and opportunities, that few people on the face of the Earth have, including the Royals.
It shows in Liz Garbus' excellent documentary. Meghan is sparklingly articulate, in control of every scene — except when she wants to appear not so — and knows just how to catch and look at the camera, and us her audience. This is not say she's feigning emotions. She was convincing to me — though, then again, I of course don't really know her.
Prince Harry no doubt benefits from his wife's media insight. He also comes across as real and relaxed, and when he's upset and not relaxed at all, that seems thoroughly justified. Again, I don't know Harry, so I can't say what he's like off-camera, but certainly his concern for Meghan's well-being and very life, in view of what happened to Harry's mother Diana, seems 100% warranted.
So the documentary brings home Harry and Meghan as a refreshingly real and therefore relatable couple. As a significant comparison, Harry's older brother and heir to the throne Prince William and his wife Kate are also shown from time to time in the first three hours. They seem nice and friendly enough, but on a different planet compared to Harry and Meghan in the way they relate to the world. I suppose part of this is understandable, given the weight on William's shoulders as future King. But part of this also comes from their personalities, and neither having anything like Meghan's facility with the media.
Other than Harry and Meghan per se, I thought the most commanding part of the documentary came from historian David Olusoga, whose critical take on the British commonwealth was a splash of icy salt water for any who romanticize the biggest empire that ever existed in our world. The underside of bringing civilization to so many diverse places is the price that people of color are still paying for this achievement.
But there's a lot more to Harry and Meghan's story. We're advised at the beginning of the documentary that the filming concluded in August 2022, or prior to the end of Queen Elizabeth II's long reign in September. There was a walkabout in Windsor in September, with William and Kate, and Harry and Meghan, greeting the people. For whatever reason, the two couples spoke to the people separately, on opposing sides of the street, and there was not much interaction between them. Harry and Meghan of course were fully aware of the documentary, and the story it would tell. William and Kate must have known about it, but it's not clear if they'd seen it. Probably not.
But I'm definitely looking forward to seeing the concluding three episodes of the documentary on Thursday.
See also Harry & Meghan 1-3: The Media