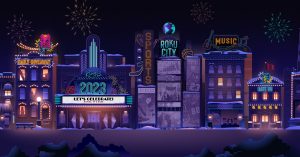 The countdown is on! From giveaways to free entertainment, we're gearing up to celebrate 2023 in a big way. Read on to learn more about the New Year's Central experience on your Roku device.
How can I access the New Year's Central experience?
Beginning December 30 through January 2, the New Year's Central experience will be accessible on your Roku Home Screen Menu. Simply select New Year's Central to start browsing the experience or input "New Year" into Roku Search using voice or text.
Special features in the New Year's Central experience:
Four days of giveaways: Come back daily for a chance to win one of four unique Roku prizes. Additionally, don't miss your chance to enter the ongoing Home Theater for the Holidays sweepstakes before time runs out!
Free and featured entertainment: From New Year's countdowns to this year's best Roku Originals, select "Let's Celebrate!" to start streaming our favorite entertainment picks of the year.
The Year in Streaming special: Join Andrew "Hawk" Hawkins and Maria Menounos as they present the best of streaming from 2022 in a brand-new Roku Recommends special.
Sports Zone: Jump directly into the biggest games of the season from the NFL, College Football, NHL, and more via the Sports Zone.
Music: Add party music to your New Year's gathering with free content from Vevo, iHeart, and more.
Winter Wallpaper & Screensaver: In the spirit of the Holidays, you may have noticed that we made some changes to your home screen and Roku City Screensaver! If you don't see it already on your Home Screen, head over to Settings>Theme>Wallpapers to add our magical winter wallpaper with elements like skating penguins and animated fireworks to your home screen.
Happy New Year from your friends at Roku!
The post Ring in 2023 with the New Year's Central experience on your Roku device appeared first on The Official Roku Blog.